ESR 10
The EGU GA 2020 - a little different
@ Sharing Geoscience Online (4-8 May) |

2020-05-18
SLATE goes EGU - Ready... set... TYPE!
ESR 2, ESR 4, ESR 5, ESR 6, ESR 9, ESR 10 | @ Sharing Geoscience Online (4-8 May 2020)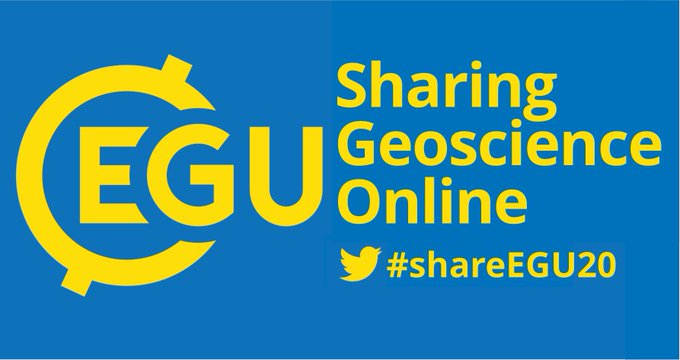 Everyone working in academic geoscience, especially in Europe, has the EGU week highlighted in their calendar. Even if not everyone has the luxury to travel to Vienna each year, we all have at least one colleague who is planning to present new work, new results, or new ideas at EGU. When the abstract submission deadline approaches we all feel involved, either directly or indirectly.
When we received the reminder about the upcoming deadline for session proposals in July 2019, it felt quite natural to try to organize a session to celebrate the last EGU of the SLATE project. No session focused specifically on submarine mass movements during EGU 2019, and the SLATE ESRs were scattered all over different sessions. For our last year, we wanted to organize something that could put all the SLATE ESRs and the submarine mass movements community together to present their work. We gathered five SLATE ESRs who were willing to contribute actively to the session's organization, and with this motivation in mind, we started working on it.
First thing: you have to make sure that nobody else is organizing the same session. In our case, this meant getting in touch with the S4SLIDE community, which gathers many other researchers working on the topic of submarine mass movements. It took only one email to Lorena Moscardelli, the S4SLIDE chair, to get her full support for the initiative, including five travel grants for early career scientists to attend our session. We could not have had a better or more motivating start.
Everything from there on felt quite spontaneous: shape the session in a way that everyone working in the field could be involved, find a catchy session name, write the proposal, submit it. The session got accepted. We promoted it on our Twitter page (@itnSLATE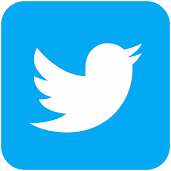 ), making sure to be annoying enough that everyone working on submarine landslides knew about it. Eventually we received enough abstracts to have an oral and a poster session. Session time: late afternoon on Friday... Not ideal. Some hard negotiation with other conveners and the organizers later, the new session time: Monday afternoon. We could not have asked for a better outcome.
Then, the unexpected happened. Since everyone realized the COVID-19 pandemic was a serious threat, it was clear that it would somehow affect the conference week in Vienna. This bad feeling was confirmed by the end of March: "No EGU General Assembly in 2020, see you in 2021. BUT…we will try something different. This year, the EGU will be an online event, free and open to everyone".
Honestly, the initial expectations were not so high, but as new details about the online conference were revealed, the enthusiasm started to increase. By mid April, it was clear that we were going to be pioneers of something that could represent a big innovation not only for EGU, but for the entire geoscience community: a virtual conference where thousands of people could talk about science. A drastic reduction in carbon emissions and no more worring about travel budgets. A potential opportunity to reach a larger number of scientists, and a chance to share our presentations beyond the geo-nerds who attend EGU in-person. In other words, there was potential for a scientific communication and outreach revolution.
We needed to make sure that the authors in our session were as motivated as we were. We got in touch with them and explained the importance of being part of such an exciting experiment. In the end, 12 out of the 20 original presenters uploaded their presentation materials ("displays"), and discussed their research on a live chat with more than 120 attendees. The level of engagement was unexpected: a two hour long active discussion, a multitude of specific and open questions, debates. Everyone could notice a considerably more dynamic environment than a regular oral session.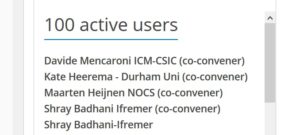 There is no doubt that this forced EGU online edition has been an eye-opener and a potential game-changer for future conferences. The benefits of such a format are obvious, as are the limitations and aspects which could be substantially improved given more organization time. The pros are an answer to years of discussion on how to make this conference more open, international and sustainable. In the last few years we have all seen a multitude of geoscientists travelling the whole continent by train, posting their adventures during their journey on social media. The 2020 edition showed that it is possible, and perhaps more realistic than previously thought, to attend the conference from home. Can you motivate people who are not geoscientists to travel to Vienna, pay for their participation, just to follow the few sessions which are understandable to a non-expert audience? Difficult. However, if you can access science in the comfort of your home, more ordinary people can and will tune in, and scientists will find a wider audience to discuss their discoveries with.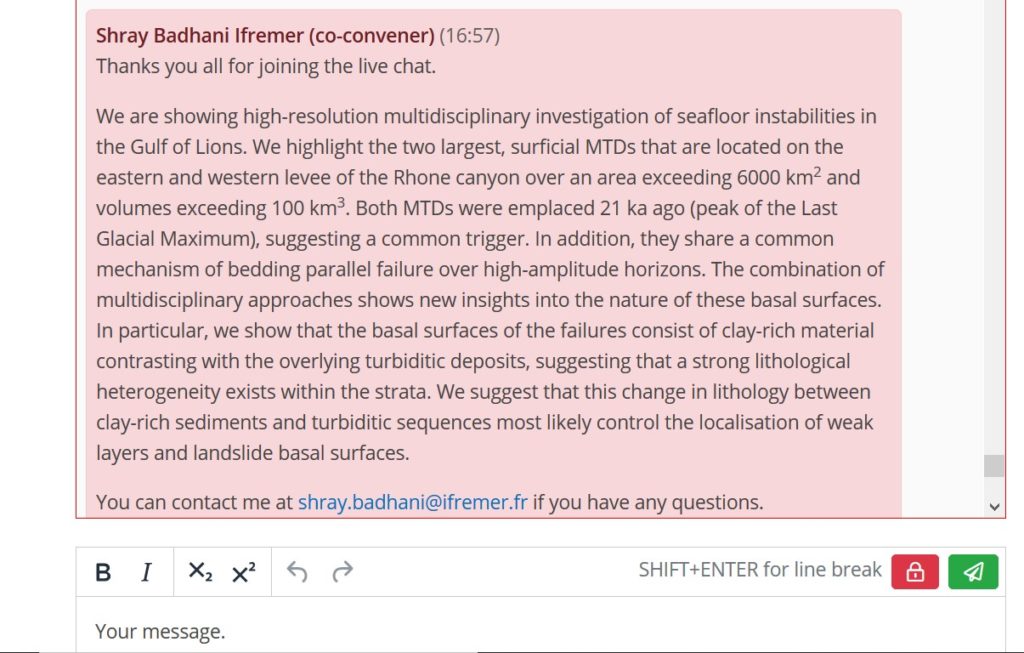 There were also limitations. The most obvious drawback is the lack of in-person interaction. As many of us experience during a regular EGU, there is no better networking than walking around posters, holding a beer and having informal conversations. As this is our natural way to act. Additionally, as everyone can attend from home, the time zones become more problematic and might exclude scientists from sessions they wish to attend. Finally, it requires stable internet access that not everyone has access to.
What if future editions allow authors to present through sharing screens online and explaining their research by talking, instead of writing? How about answering questions by voice, as we have seen in many Instagram or YouTube videos during this quarantine period? What if there was the possibility to create private chat or video-call rooms, where a private interaction between people is possible? Considering the huge online traffic of the online event, this was clearly not possible to set up in little more than a month. Nevertheless, does it sound so unrealistic to do in a one-year timeframe? Finally: is it sustainable to set up such a virtual event free of charge or at a very accessible cost?
There are many issues and challenge to address, but none of them seem impossible to overcome. The EGU Sharing Geoscience Online have shown an effective alternative to gather together thousands of scientists without making them travel, thanks to the creativity and the hard work of the organizers. It let us believe we saw the (much needed) future of conferences.
Is the future already here, or will we see each other in Vienna next year?
The EGU Session NH5.6 – Subaqueous mass movements: triggers, dynamics and hazards conveners.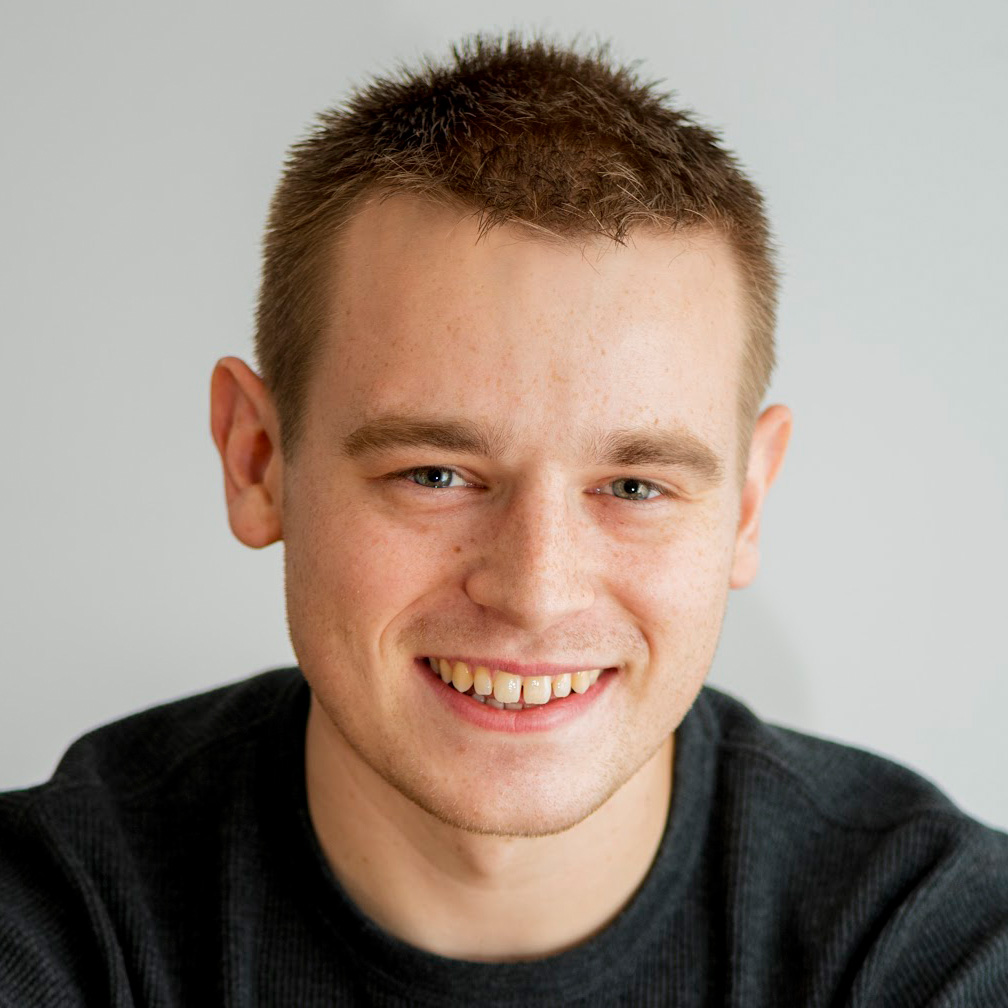 Jonathan Ford ESR2
I presented an example of using seismic diffraction imaging to better image the internal structure of submarine landslide deposits. Several SLATE members were involved in the acquisition of this data during the INSIGHT (Legs 1 and 2) cruises, particularly PIs Roger Urgeles and Eulàlia Gràcia.
As I had no idea what to expect from the new online format, I simply uploaded the slides that I would have presented in Vienna. During the live-chat I introduced the presentation with a few sentences, the audience spent three minutes reading the slides and then five minutes of text-based discussion followed. The discussion was a little frantic - an oral presentation is nerve-wracking, but you never have to respond to several questions simultaneously! In hindsight I would have prepared fewer slides or an extended poster, similar to the existing PICO format at EGU. But I do think the informal chat allowed people to ask questions which they might not have asked during an oral presentation, and there was some good discussion and good points raised for all the presentations.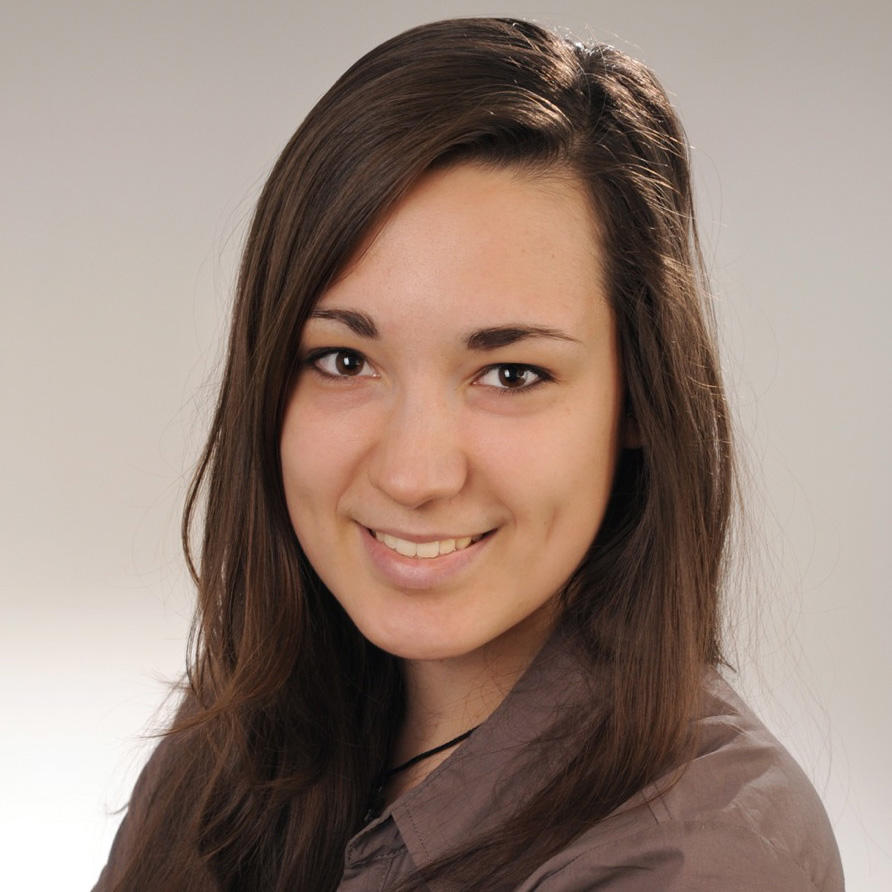 Ricarda Gatter ESR9
"One of the most interesting and stressful experiences – and I was just reading the chat!"
I was not planning on joining the EGU General Assembly this year, as it was scheduled right in the middle of my secondment in Southampton. Well, plans change and I got the opportunity to follow this year's conference after all. In particular, it allowed me to join the great session convened by Davide (ESR 6), Shray (ESR 4), Kate (ESR 5), Maarten (ESR 10) and William (ESR 12) - Subaqueous mass movements: triggers, dynamics and hazards. Looking back, I do not know if it was the best or most stressful experience ever 😀 It was amazing that we could chat – quite literally, in a chat portal – about ongoing science, ideas and controversies. I have to admit, however, following the ongoing discussion was also sometimes challenging – my highest respect to all the presenters and conveners! I think as a whole it was a great opportunity to be able to discuss science. Nevertheless, I am looking forward to the next conference – hopefully back in Vienna.
Location
Sharing Geoscience Online
Conference Schedule
SLATE Participants
Conveners:
Presenters:
Maarten's secondment at the University of Innsbruck, Austria |

2019-12-04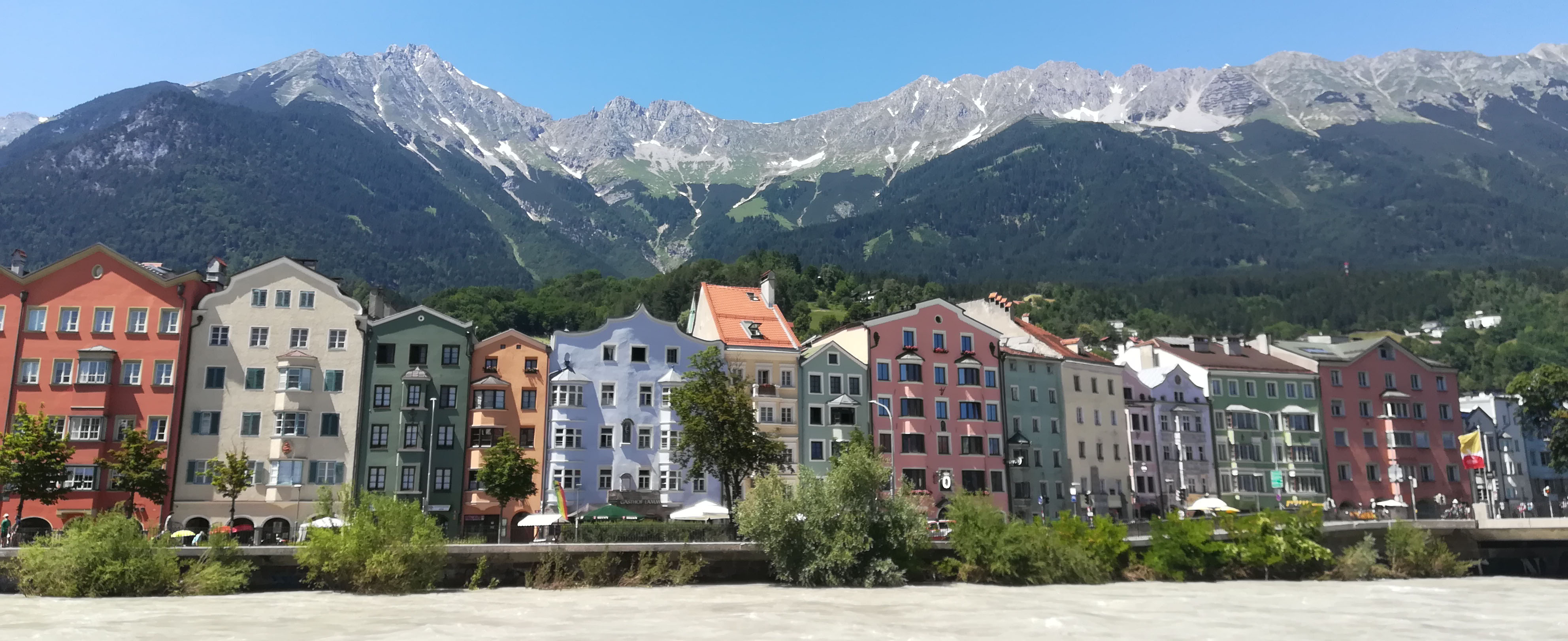 Maarten's secondment at the University of Innsbruck, Austria
Maarten Heijnen (ESR10) | @ Innsbruck, Austria (June - August 2018)
Wow! As soon as the airplane descended through the clouds there were mountains everywhere! This was a great start to my nine-weeks secondment at Innsbruck University. The scenery was so impressive that I was taking pictures as soon as I got out of the airplane, before walking into the arrivals hall at Innsbruck airport. After picking up my bags, I went to Maddalena's house (ESR 15) who was on secondment in Bremen for the time I would be in Innsbruck, so that worked very well out logistically. Less socially. It was Saturday, after a day of settling in, experiencing the high supermarket prices, and exploring the old town of Innsbruck, my secondment could start on Monday morning.
I would spend my time in Innsbruck working on sediment cores retrieved from Millstaettersee, an Alpine lake in Carinthia, eastern Austria. These cores were to contain a very well preserved and detailed record of lake sediments, including different types of suspended sediment clouds flowing over the bottom of the lake. These flows are called turbidity currents and can be caused by submarine landslides, but also by other events, like river floods. The rest of my project also evolves around these flows, but than in fjords. The scientific purpose of this secondment is to see how these flow events are actually preserved on the bottom of a basin, which is currently not possible in the fjords, since we do not have good sediment cores in the main part of were the flows deposit their sediment (lobes). Furthermore, I would learn how to work with sediment cores, and how to analyse data obtained from them. Lastly, the secondment offered the opportunity to compare lacustrine settings with fjord settings. Prof. Michael Strasser (PI of ESR 15) and Dr. Jasper Moernaut hosted and supervised me during the secondment.
Unfortunately, the cores were collected well before I arrived in Innsbruck, so no fieldwork on an Alpine lake for me this time. Apart from the coring itself, I was involved in the complete process of working with sediment cores, which I had little experience with. Christoph Daxer, a PhD student in Innsbruck, showed me how to split cores, log them, measure their physical properties, and measure their chemistry (with the help of Steven Huang). I also learned how to take small samples from these cores and study their composition under the microscope, and measure the size of the sediment grains the cores are composed of (with the help of Marcel Ortler). One of the highlights was the beauty of these lacustrustrine cores, which have a fine layering in them that is caused by seasonal variations in the lake in them. These are called varves, and allow accurate dating of sediment, just like year rings in a tree. Another highlight was realising how much of the sediment in these cores was made up by microfossils called diatoms, they were a delight to study under the microscope. The variety in the shapes of diatoms and the networks they sometimes form is awesome! Also having the opportunity to work with the ITRAX XRF scanner was great. These machines blast X-Rays into the core, and can give data on the elemental composition of the sediment based on what rays they release back, at stunning resolutions (we used a resolution of 200 µm).
Apart from the science, I had enjoyed working in the group in Innsbruck. Being able to work with people outside of my own research group really expanded my perspective. I shared an office with other PhD students and MSc students from the group. I had various so called "Millstaetter meetings", and we had group coffee every Monday where we discussed everything that was going on in the group. The planning of my secondment was especially good, as my second day happened to be the group's yearly hike and barbecue. This was a great way to get to know the group and it made me feel very welcome!
Lastly, living in Innsbruck for a summer, was a great experience! I could work on my German, which got a bit rusty over the years. I enjoyed plenty of local specialities including schnitzels, strudels, apperol spritz, kaspressknödelsuppe, and much more. But the best thing of all was being in the mountains for the entire summer, which is very unusual for a Dutch person. I went hiking at least once a week. Especially so called "hiking club" that my Innsbruck colleague Jana initiated with me, was awesome!
Thanks for an amazing secondment Michi, Jasper, Steven, Christoph, Jana, Andrea, Domi, Patrick, Tobias, and Marcel!
Servus!
Location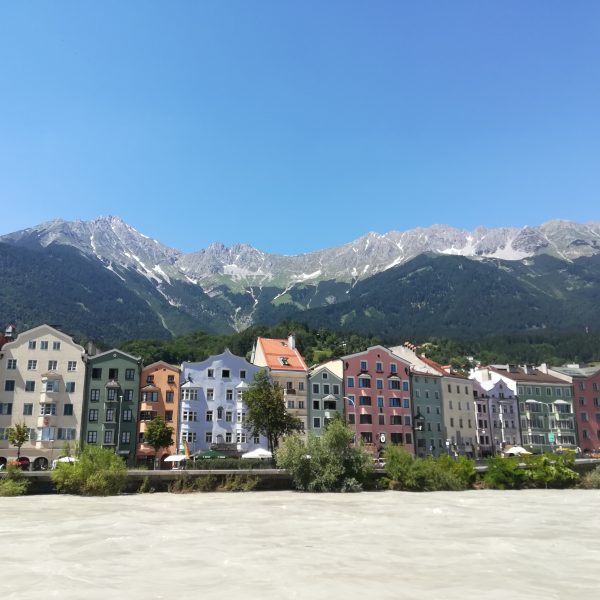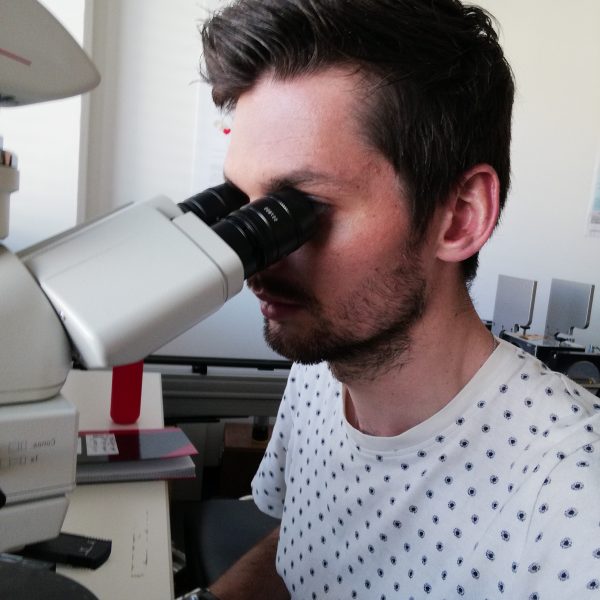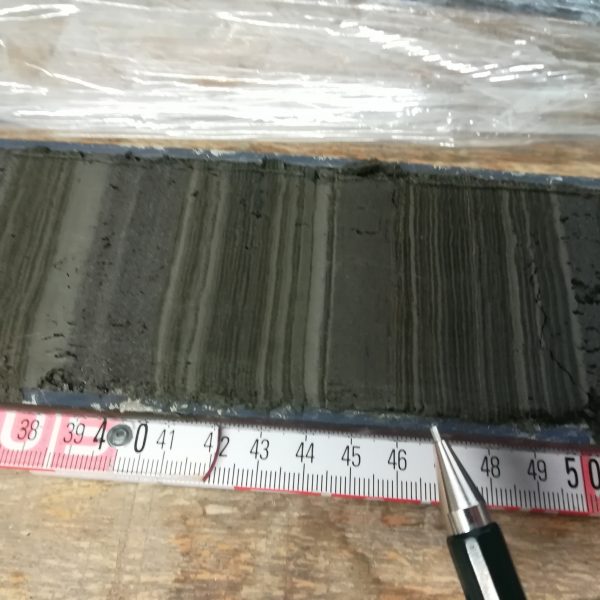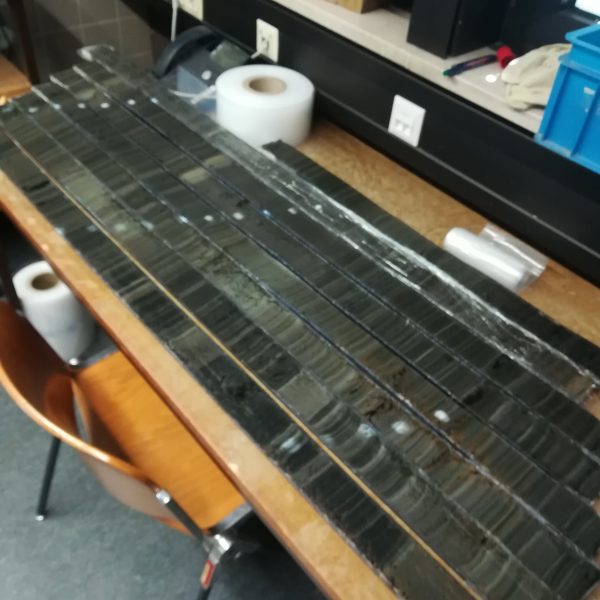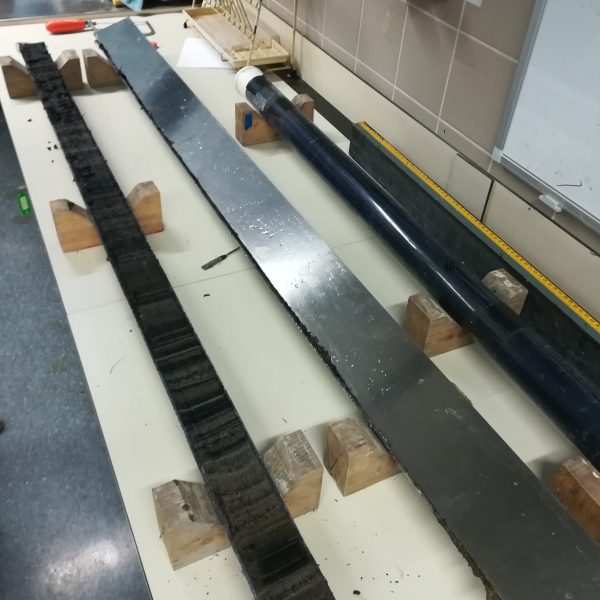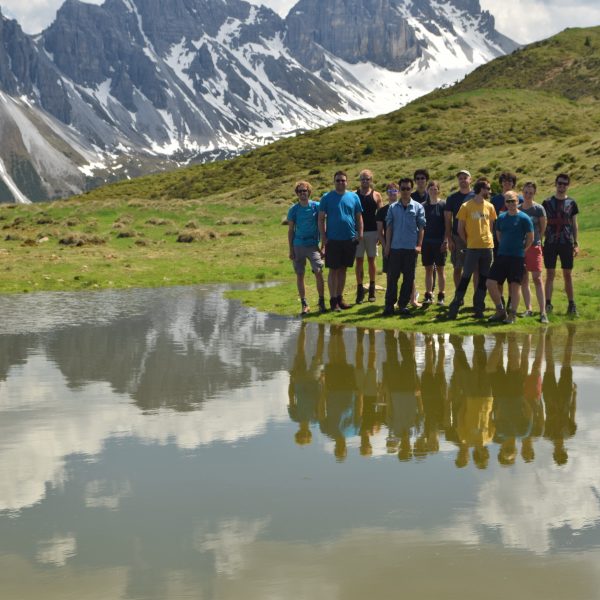 Maarten's experience of the AGU 2018
@Washington, D.C., USA |

2019-02-16

Maarten's (ESR 10) Experience of the AGU Fall Meeting 2018
Maarten Heijnen (ESR 10) | @ Washington, D.C., U.S.A. (10-14 December 2018)

The AGU fall meeting might be the largest conference for geoscientists in the world. I imagined from all the stories over the years that this conference is the Las Vegas of geosciences, and I wanted to experience this at least once during my PhD. So I took the opportunity to visit last year's AGU Fall Meeting in Washington D.C.
The American Geophysical Union (AGU) is a large organisation which organises several geoscience-related events each year, and offers different kinds of support and service to geoscientists. But, they are probably most famous for the fall meeting that organise yearly. This meeting is usually in San Francisco, but has been moving around the United States for the last few years due to renovations of the usual venue. The 2018 edition was held from 10-14 December in Washington, D.C. With approximately 25000 participants yearly, AGU is the largest conference in the field of geosciences in the world.
Due to its enormity, the conference has a lot to offer in terms of science, networking, non-technical activities and sessions, and an exhibition of companies, networks, and associations. Furthermore, the AGU is a broad conference, allowing me to compose a very relevant schedule of talks consisting of interesting bits from ocean sciences, sedimentology, physical geography, and geophysics. Another important reason for me was to come in contact with the deep-water sedimentology community in the United States, who were not present at the conferences I've attended previously. So all of this made me decide to attend the AGU last year and go and see this massive conference for myself!
I submitted an abstract in the summer of 2018, which was accepted as a poster presentation in the submarine channel session. The AGU has a reputation for being a very good conference for poster sessions, so I was excited to experience this. After the schedule was finalised, I learned that the submarine channel session lasted all Monday, with orals in the morning and posters in the afternoon. Different from many other conferences, posters are not squeezed in the late afternoon (e.g. 5-7) during drinks after a full day of talks. For me, the AGU definitely lived up to its name of being good for posters. A lot of people visited my poster and I had interesting discussions during the session.
I also enjoyed the oral sessions very much, and noticed that some research groups in the United States have very different focus and do research on aspects that we don't really in Europe, which was very interesting. Furthermore, industry presentations were much more common during the AGU than during other conferences I had attended before, which can give a nice twist to an oral session.
Apart from technical sessions, sessions and workshops on all sorts of other subjects such as communication and education are organised. I attended a session and followed a workshop on science communication, which was also really interesting.
Furthermore, several relaxing and networking events are organised during the AGU. The biggest event this year was the 'night at the museum'. On one of the nights of the conference, all museums on the Washington mall were open in the evening and only accessible for AGU participants. I went, however, with some friends to see the film 'free solo' in the National Geographic office, which was preceded by a discussion panel of geologists. Lastly, I attended a student's breakfast one of the mornings, which was a really nice opportunity to meet fellow PhD students and early career scientist.
Altogether I experienced the AGU Fall Meeting as an enormous, sometimes overwhelming conference, with a very diverse and extensive program. It is a great conference for multidisciplinary scientist and a great way to meet scientists that you generally don't meet at other conferences.
Location
Venue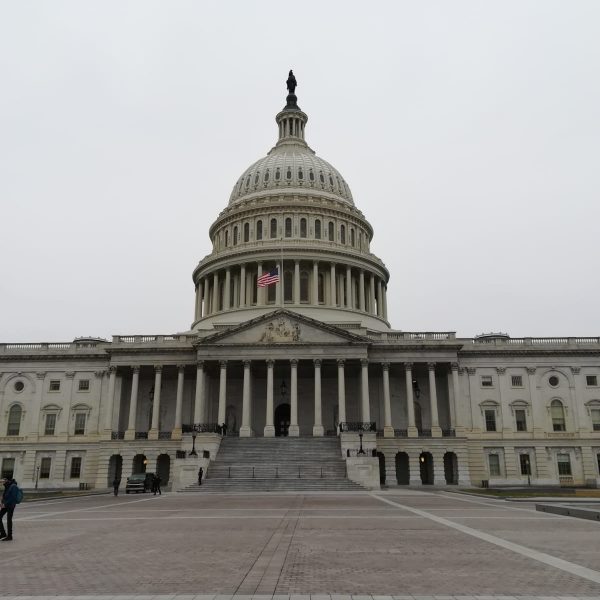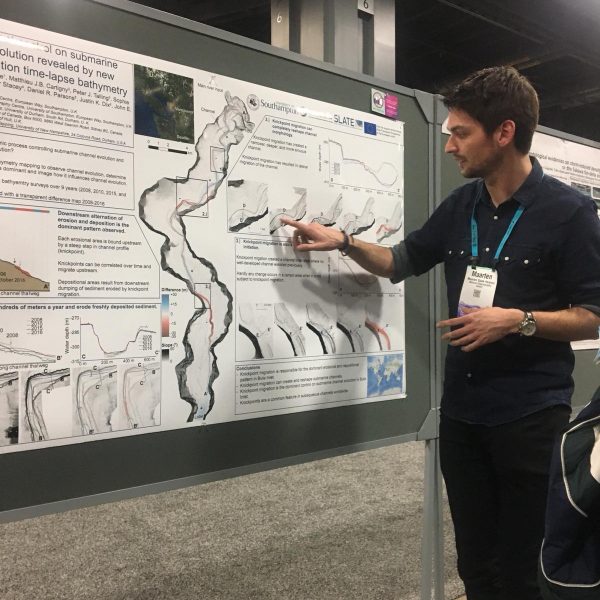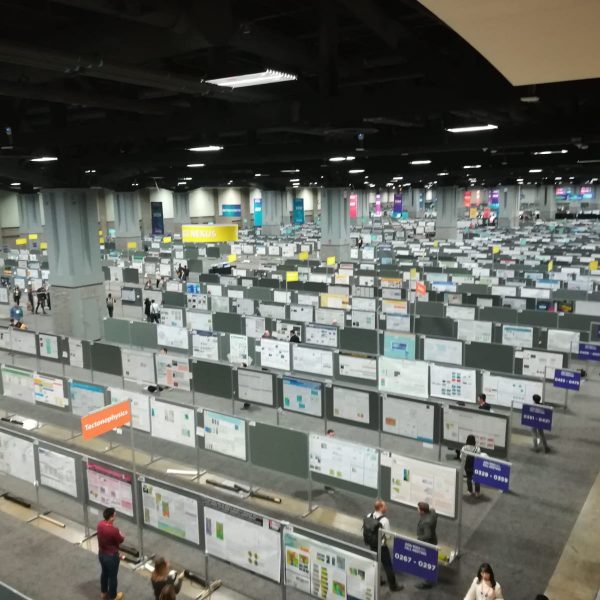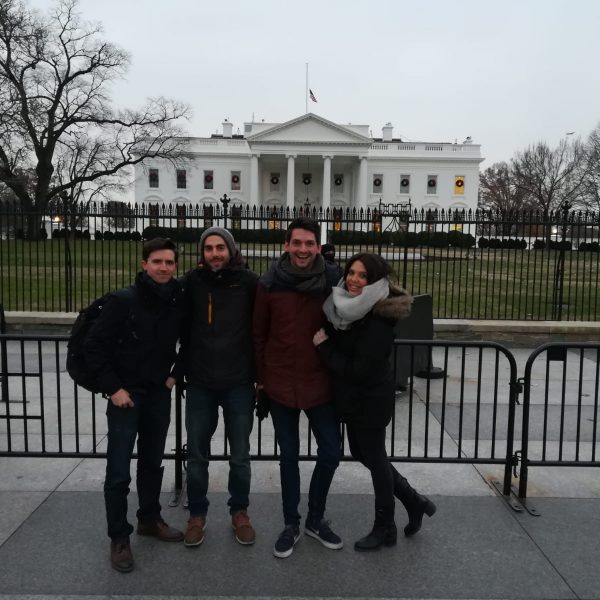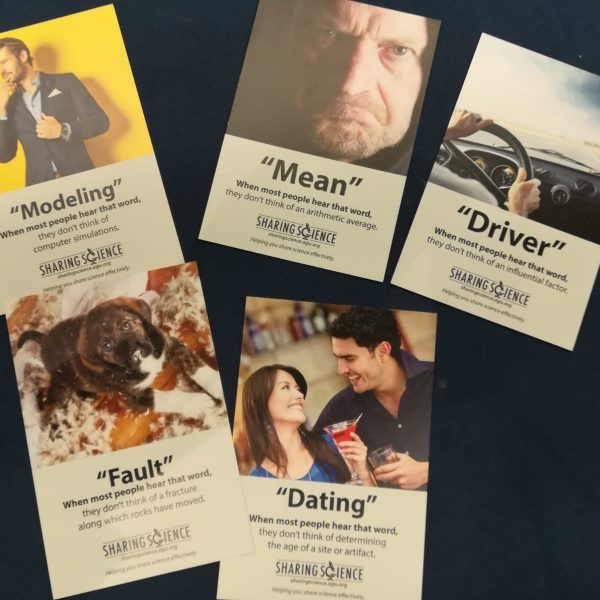 ESRs' experiences of the BSRG2018
@ Edinburgh, Scotland (18-19 Dec 2018) |

2019-01-24

ESRs' experiences of the "British Sedimentological Research Group Anual Group Meeting 2018" (BSRG2018)
Kate Heerema (ESR5), Ricarda Gatter (ESR9), Maarten Heijnen(ESR10) | @ Edinburgh, United Kingdom (18-19 December 2018)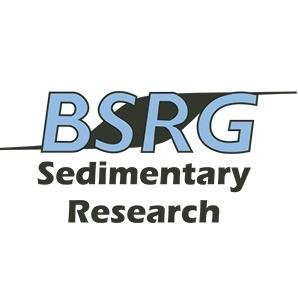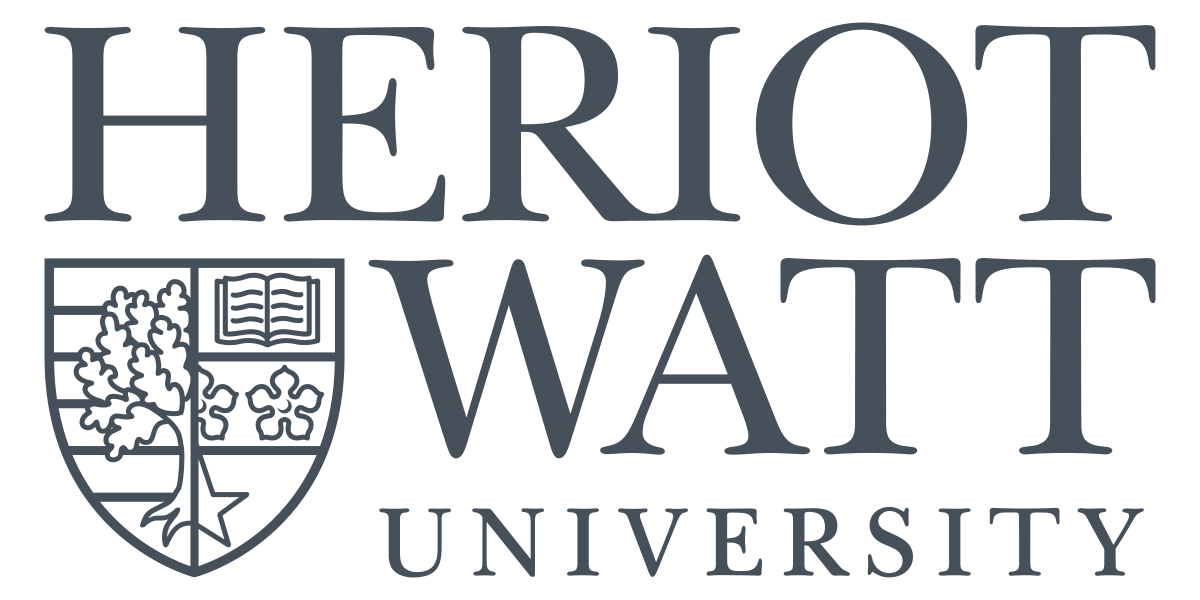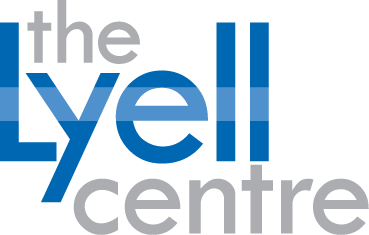 This year's conference for the British Sedimentological Research Group (BSRG) was held in Edinburgh, just before Christmas. Kate (ESR 5), Ricarda (ESR 9) and Maarten (ESR 10) represented the PhD students from SLATE, and Mike Clare was the PI present for this British based sedimentological conference. BSRG is a conference that predominantly attracts UK-based sedimentologists, with a few Dutch, Norwegian and German sedimentologists culminating to about ~100 scientists gathering. It is a relatively small conference, with four parallel sessions divided over two days. Ricarda gave a poster presentation, Kate an oral presentation, and Maarten did both an oral and poster presentation. BSRG is a great way to get your research and (wild) ideas out there, receive feedback and improve your ideas and plans!
The conference also has workshops and field trips preceding and following. Ricarda participated in the pre-conference workshop "Contourites: seismic and sediment characteristics", organised by Dorrik Stow, Zeinab Smillie and Uisdean Nicholson from Heriot-Watt University, Edinburgh. At the beginning, the participants got a brief introduction to the terminology and relevance of contourites before they could examine contourites themselves based on seismic data and core material from selected case studies. Kate went to a workshop where various aspects of sedimentological datasets were shown. The core store showed an excellent record of sedimentological rock sequences found across Scotland. Flume tanks show sedimentological structures being formed in actions, creating ripples, and dropping high density fluids in the tanks. And finally, digging in closer, we used microscopy to get into the nitty gritty of sediments.
All-in-all, a pretty successful workshop with lots of new information, networking and seeing old friends.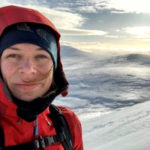 Kate Heerema
ESR 5
"For me it was the first time attending the BSRG conference, but not the first conference of my PhD. The great thing about the BSRG conference is, I think, the small scale. After my presentation on my current chapter, I got some great feedback that has really helped improve my research. In addition, as it is small scale, it is far less intimidating, and meeting new people is a lot easier!"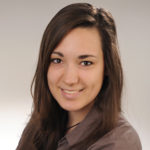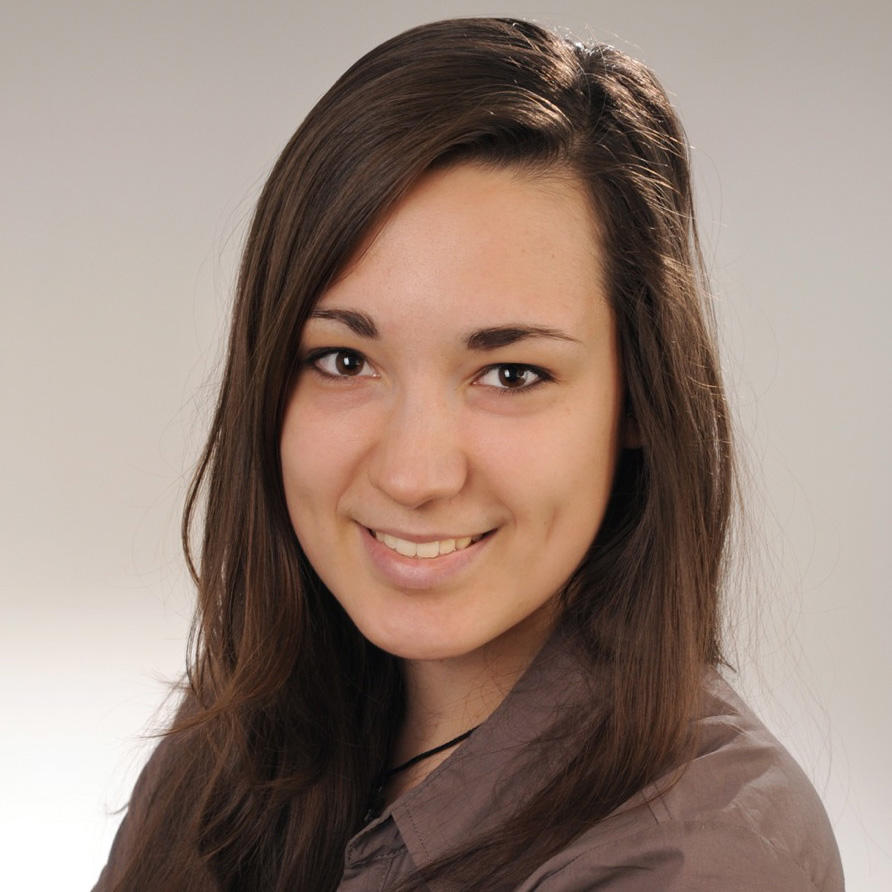 Ricarda Gatter
ESR 9
"BSRG was the first conference I went to and I really enjoyed it. Thanks to BSRG being a smaller conference, it was easy to interact and get to know new people. Everybody was extremely friendly and I gained a lot of valuable knowledge from the presentations, posters, and discussions. In addition, I learned a lot about contourites during the pre-conference workshop. This new information will definitely help me a lot in analysing my data, which also comprises contouritic deposits. All in all, it was a wonderful experience, which significantly enhanced my knowledge of sedimentology and allowed me to meet nice people in a beautiful city."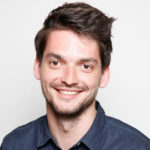 Maarten Heijnen
ESR 10
"This was the third time for me attending the BSRG AGM conference. I have, since last year, also became a postgraduate representative for the BSRG, which means that I organise workshops and fieldtrips for other early career scientist. I'm starting to know more and more people within the BSRG community, so this conference was very nice for me. I presented a poster on the first chapter of my PhD and gave an oral poster on the second chapter, which was the first time ever presenting my second chapter. Furthermore, I wanted to practise my poster presentation skills, which is something I think I am not very good at, so I decided to present my first chapter as a poster. I received useful feedback on my work and presentation skills, and had nice discussions with a lot of different people. See you next year BSRG!"
Location
Impressions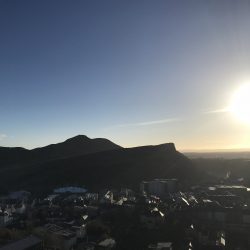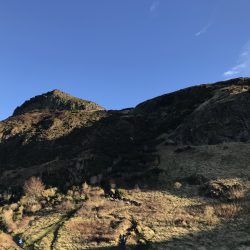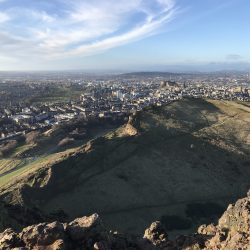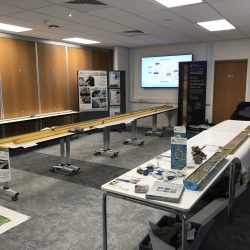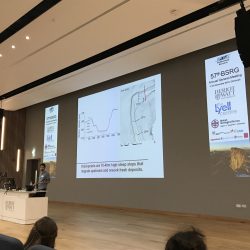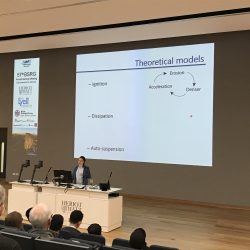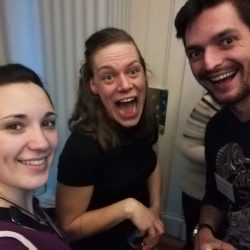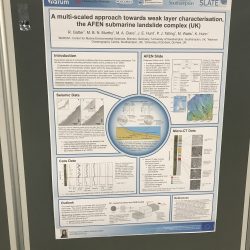 SLATE participants
Expedition to Bute Inlet, PART II
@ CCGS Vector |

2019-01-16

Expedition to Bute Inlet, British Columbia, Canada. PART II
Maarten Heijnen (ESR10) | @ CCGS Vector, British Columbia, Canada (7-21 November 2018)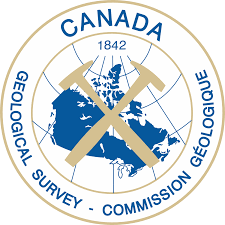 Bute Inlet: Part II
Time for the follow up. Kate (ESR 5) and Maarten (ESR10) went on a research expedition to two Canadian Fjords in
May 2018
. The aim of this expedition was to understand a turbidity current system from source to sink. Turbidity currents are submarine mass flows of sediment in water, that flow due to their excess density compared to the ambient water. These flows are known to create deep canyons and long channels on the seafloor, transport enormous amounts of sediment (all of the scale of rivers), and pose geohazards to seafloor infrastructure like cables and pipelines. We sampled and measured the seafloor and we deployed instruments in the fjord to measure passing flows over summer in May this year. We use the relatively small, yet very active system in the beautiful Bute Inlet, British Columbia, Canada, to study and better understand these turbidity current systems. The report of May's expedition ended with a major cliff hanger and it is about time to follow up!
Aims of this cruise
The instruments deployed in May have now been in the fjord for around 6 months. Their batteries have probably run out and they have hopefully measured loads of flows. So we had to go back to Bute Inlet to 1.) retrieve the instruments, to see what flows occurred; 2.) to re-survey the seafloor, to see how these flows affected the substrate; and 3.) to take some more samples to see what deposits these flows have left behind. This extensive monitoring effort will be the first full source to sink dataset of an active submarine channel and I am in the fortunate position to be a part of it and share my experiences with you.
Being alone, instead of with many
I? Where is the rest? Last cruise in May 'Slaters' Mike (PI ESR 10), Pete (PI ESR5), and Kate (ESR 5) were also on board. However, this second part of this year's expedition was much smaller, with only a few days of a larger National Recourses Canada cruise dedicated to Bute Inlet, rather than two vessels for almost 2 weeks. This has resulted in space for only one 'Slater' unfortunately.
My role
This cruise was a very different experience for me compared to last cruise. I was much more familiar with offshore research, the ship and the other scientist, I was on dayshift rather than on nightshift, and I felt like I had more responsibilities than in May. I was involved in coring, water sampling and filtering, instrument retrievals. For the Bute Inlet part of the cruise, I prepared everything for instrument retrieval and discussed the final core and sample locations with the chief scientist. We also planned the seafloor survey, together with a scientist (Steve Simmons) from Hull University we work closely together with. These extra responsibilities and the diverse tasks resulted in the opportunity to learn a variety of things I hadn't learned in May, which was great. Being on dayshift also allowed for better views and wildlife spotting, which tends to be difficult at night. We were spoiled with dolphins, whales, orcas, eagles, seals, and sea lions.
Outcome
Our main task was retrieving the instruments deployed in May, and fortunately we found all equipment back. The initial results are looking great, with plenty of flows measured, including a big flow reaching all the way down to the lobe (end of the system). And the deposit of this large flow was also recognised in the seafloor survey. One disappointing moment was when we discovered that one of the instruments had leaked and was full of water. But that I guess that is the risk you take when deploying instruments at hundreds of metres water depth for several months…
What now
Four weeks of work in Canada and two hard drives full of data later, it is time to work on this amazing data. This was, for now, the last time going to Bute Inlet. But, hopefully, I will be back some day. I learned a lot, had fun, enjoyed the beautiful scenery, and we did great science. I still feel very grateful for all the opportunities this ESR is offering me!
Location
Vessel
Impressions