ESR 9
The EGU GA 2020 - a little different
@ Sharing Geoscience Online (4-8 May) |

2020-05-18
SLATE goes EGU - Ready... set... TYPE!
ESR 2, ESR 4, ESR 5, ESR 6, ESR 9, ESR 10 | @ Sharing Geoscience Online (4-8 May 2020)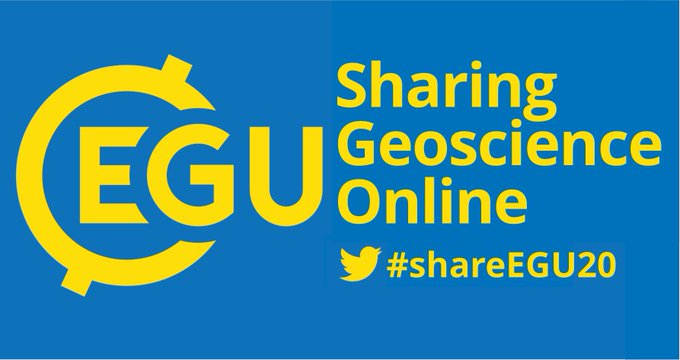 Everyone working in academic geoscience, especially in Europe, has the EGU week highlighted in their calendar. Even if not everyone has the luxury to travel to Vienna each year, we all have at least one colleague who is planning to present new work, new results, or new ideas at EGU. When the abstract submission deadline approaches we all feel involved, either directly or indirectly.
When we received the reminder about the upcoming deadline for session proposals in July 2019, it felt quite natural to try to organize a session to celebrate the last EGU of the SLATE project. No session focused specifically on submarine mass movements during EGU 2019, and the SLATE ESRs were scattered all over different sessions. For our last year, we wanted to organize something that could put all the SLATE ESRs and the submarine mass movements community together to present their work. We gathered five SLATE ESRs who were willing to contribute actively to the session's organization, and with this motivation in mind, we started working on it.
First thing: you have to make sure that nobody else is organizing the same session. In our case, this meant getting in touch with the S4SLIDE community, which gathers many other researchers working on the topic of submarine mass movements. It took only one email to Lorena Moscardelli, the S4SLIDE chair, to get her full support for the initiative, including five travel grants for early career scientists to attend our session. We could not have had a better or more motivating start.
Everything from there on felt quite spontaneous: shape the session in a way that everyone working in the field could be involved, find a catchy session name, write the proposal, submit it. The session got accepted. We promoted it on our Twitter page (@itnSLATE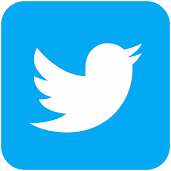 ), making sure to be annoying enough that everyone working on submarine landslides knew about it. Eventually we received enough abstracts to have an oral and a poster session. Session time: late afternoon on Friday... Not ideal. Some hard negotiation with other conveners and the organizers later, the new session time: Monday afternoon. We could not have asked for a better outcome.
Then, the unexpected happened. Since everyone realized the COVID-19 pandemic was a serious threat, it was clear that it would somehow affect the conference week in Vienna. This bad feeling was confirmed by the end of March: "No EGU General Assembly in 2020, see you in 2021. BUT…we will try something different. This year, the EGU will be an online event, free and open to everyone".
Honestly, the initial expectations were not so high, but as new details about the online conference were revealed, the enthusiasm started to increase. By mid April, it was clear that we were going to be pioneers of something that could represent a big innovation not only for EGU, but for the entire geoscience community: a virtual conference where thousands of people could talk about science. A drastic reduction in carbon emissions and no more worring about travel budgets. A potential opportunity to reach a larger number of scientists, and a chance to share our presentations beyond the geo-nerds who attend EGU in-person. In other words, there was potential for a scientific communication and outreach revolution.
We needed to make sure that the authors in our session were as motivated as we were. We got in touch with them and explained the importance of being part of such an exciting experiment. In the end, 12 out of the 20 original presenters uploaded their presentation materials ("displays"), and discussed their research on a live chat with more than 120 attendees. The level of engagement was unexpected: a two hour long active discussion, a multitude of specific and open questions, debates. Everyone could notice a considerably more dynamic environment than a regular oral session.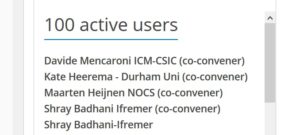 There is no doubt that this forced EGU online edition has been an eye-opener and a potential game-changer for future conferences. The benefits of such a format are obvious, as are the limitations and aspects which could be substantially improved given more organization time. The pros are an answer to years of discussion on how to make this conference more open, international and sustainable. In the last few years we have all seen a multitude of geoscientists travelling the whole continent by train, posting their adventures during their journey on social media. The 2020 edition showed that it is possible, and perhaps more realistic than previously thought, to attend the conference from home. Can you motivate people who are not geoscientists to travel to Vienna, pay for their participation, just to follow the few sessions which are understandable to a non-expert audience? Difficult. However, if you can access science in the comfort of your home, more ordinary people can and will tune in, and scientists will find a wider audience to discuss their discoveries with.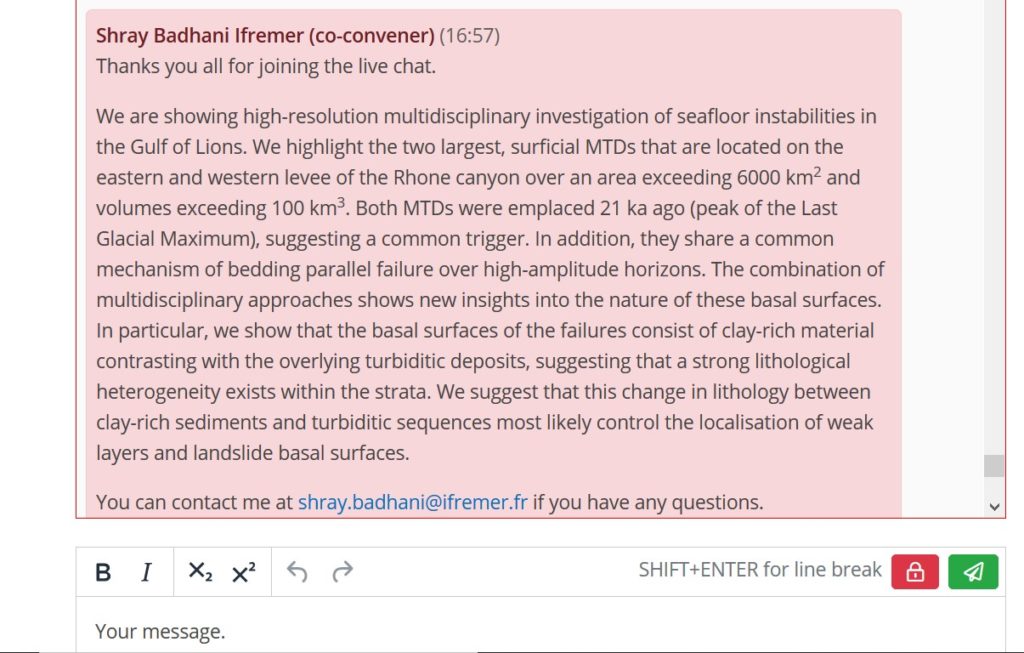 There were also limitations. The most obvious drawback is the lack of in-person interaction. As many of us experience during a regular EGU, there is no better networking than walking around posters, holding a beer and having informal conversations. As this is our natural way to act. Additionally, as everyone can attend from home, the time zones become more problematic and might exclude scientists from sessions they wish to attend. Finally, it requires stable internet access that not everyone has access to.
What if future editions allow authors to present through sharing screens online and explaining their research by talking, instead of writing? How about answering questions by voice, as we have seen in many Instagram or YouTube videos during this quarantine period? What if there was the possibility to create private chat or video-call rooms, where a private interaction between people is possible? Considering the huge online traffic of the online event, this was clearly not possible to set up in little more than a month. Nevertheless, does it sound so unrealistic to do in a one-year timeframe? Finally: is it sustainable to set up such a virtual event free of charge or at a very accessible cost?
There are many issues and challenge to address, but none of them seem impossible to overcome. The EGU Sharing Geoscience Online have shown an effective alternative to gather together thousands of scientists without making them travel, thanks to the creativity and the hard work of the organizers. It let us believe we saw the (much needed) future of conferences.
Is the future already here, or will we see each other in Vienna next year?
The EGU Session NH5.6 – Subaqueous mass movements: triggers, dynamics and hazards conveners.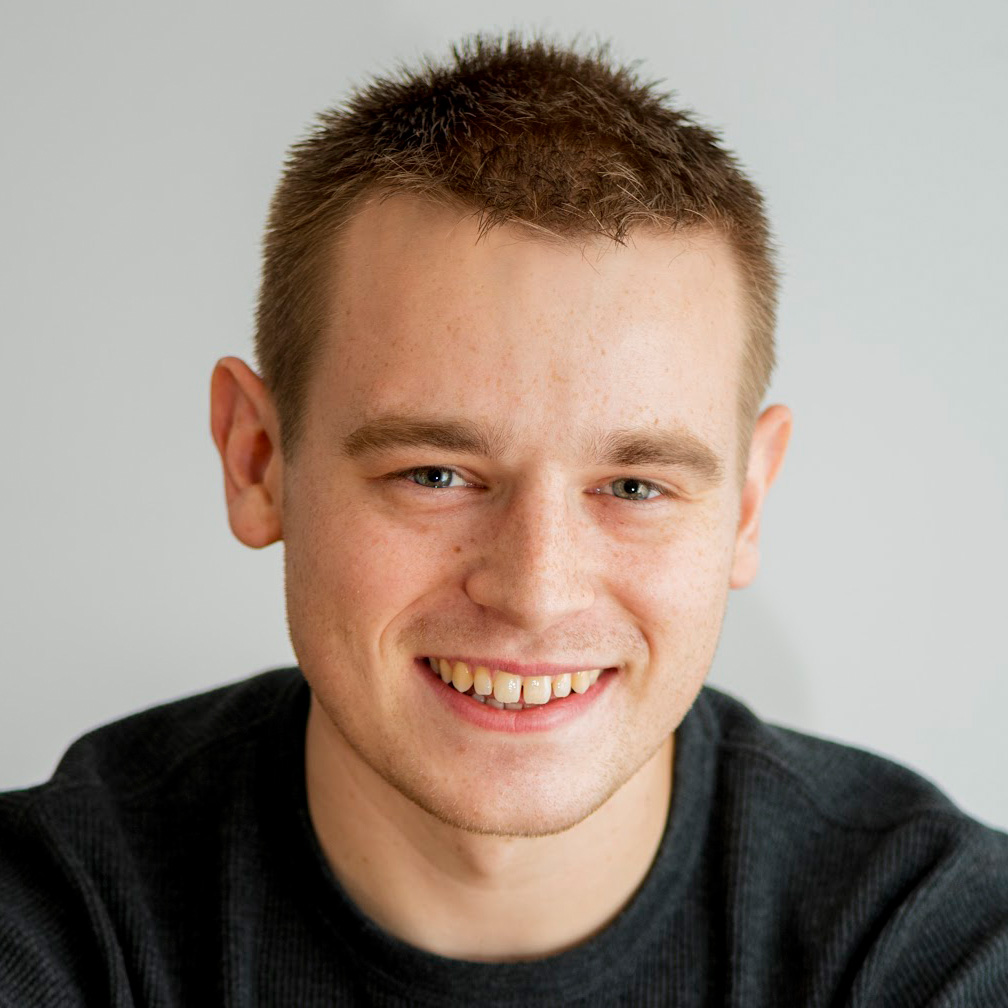 Jonathan Ford ESR2
I presented an example of using seismic diffraction imaging to better image the internal structure of submarine landslide deposits. Several SLATE members were involved in the acquisition of this data during the INSIGHT (Legs 1 and 2) cruises, particularly PIs Roger Urgeles and Eulàlia Gràcia.
As I had no idea what to expect from the new online format, I simply uploaded the slides that I would have presented in Vienna. During the live-chat I introduced the presentation with a few sentences, the audience spent three minutes reading the slides and then five minutes of text-based discussion followed. The discussion was a little frantic - an oral presentation is nerve-wracking, but you never have to respond to several questions simultaneously! In hindsight I would have prepared fewer slides or an extended poster, similar to the existing PICO format at EGU. But I do think the informal chat allowed people to ask questions which they might not have asked during an oral presentation, and there was some good discussion and good points raised for all the presentations.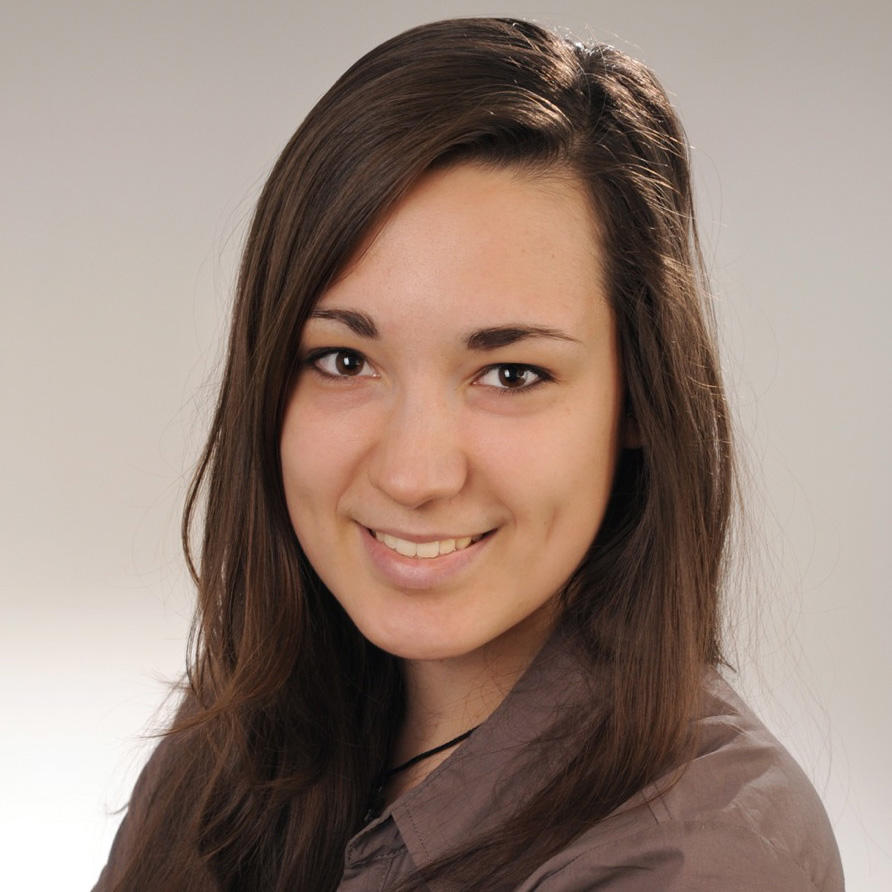 Ricarda Gatter ESR9
"One of the most interesting and stressful experiences – and I was just reading the chat!"
I was not planning on joining the EGU General Assembly this year, as it was scheduled right in the middle of my secondment in Southampton. Well, plans change and I got the opportunity to follow this year's conference after all. In particular, it allowed me to join the great session convened by Davide (ESR 6), Shray (ESR 4), Kate (ESR 5), Maarten (ESR 10) and William (ESR 12) - Subaqueous mass movements: triggers, dynamics and hazards. Looking back, I do not know if it was the best or most stressful experience ever 😀 It was amazing that we could chat – quite literally, in a chat portal – about ongoing science, ideas and controversies. I have to admit, however, following the ongoing discussion was also sometimes challenging – my highest respect to all the presenters and conveners! I think as a whole it was a great opportunity to be able to discuss science. Nevertheless, I am looking forward to the next conference – hopefully back in Vienna.
Location
Sharing Geoscience Online
Conference Schedule
SLATE Participants
Conveners:
Presenters:
Recap of 2019 |

2020-02-18

Ricarda's Recap of 2019
Ricarda Gatter (ESR9)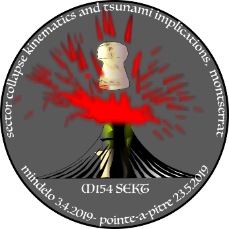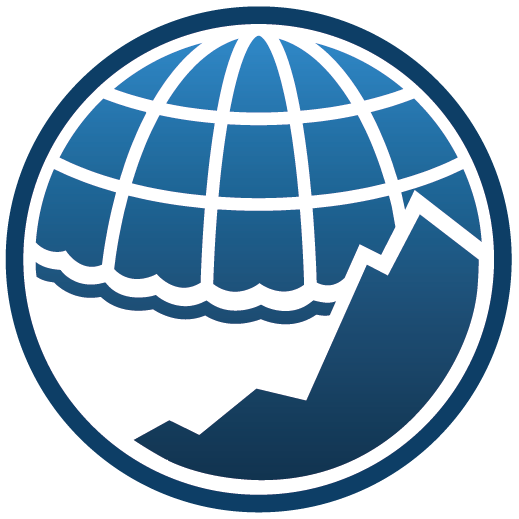 Many great things happened in 2019.Some highlights for me included the EGU General Assembly (Impressions from EGU); the METEOR M154/2 cruise to research volcanic deposits surrounding Montserrat; secondments and visits to the National Oceanography Centre (NOCS), the University of Southampton and Fugro; the annual SLATE workshop in Bologna (3rd Annual SLATE Workshop); and, of course, my first paper submission. Now that the final year of my PhD and the pressure to finish has begun, I am looking back on some of these events; happy and proud of how far I have already come.
Montserrat, here we come!
One of the most exciting things for me was probably being part of the METEOR M154/2 research cruise to Montserrat. It was my first time on a research vessel and I really loved it. It was amazing to be surrounded by science 24/7, and to see the excitement glittering in everyone's eyes whenever we arrived at a new coring site and recovered even the smallest amounts of material. One of my favourite memories is that of a senior scientist jumping around, shouting "It worked, it really worked! I never build anything that works!" after their new developments were successfully deployed. I enjoyed meeting people from different scientific backgrounds and talking to them about their research and my own project. The work on the ship really helped me to get a better understanding of my own data, and to develop new ideas. Of course, we also had a little helper on board…
Junior scientist learning the craft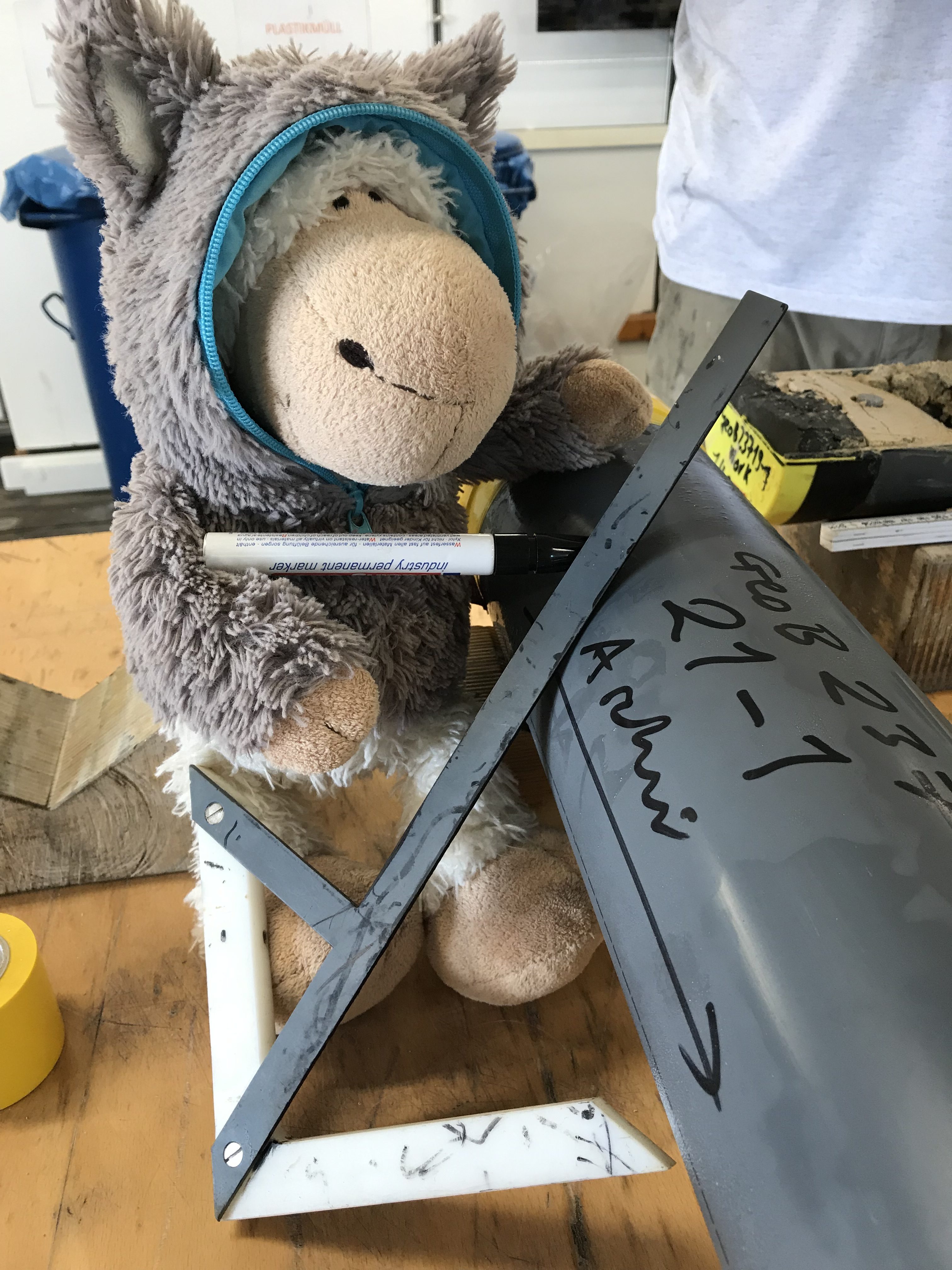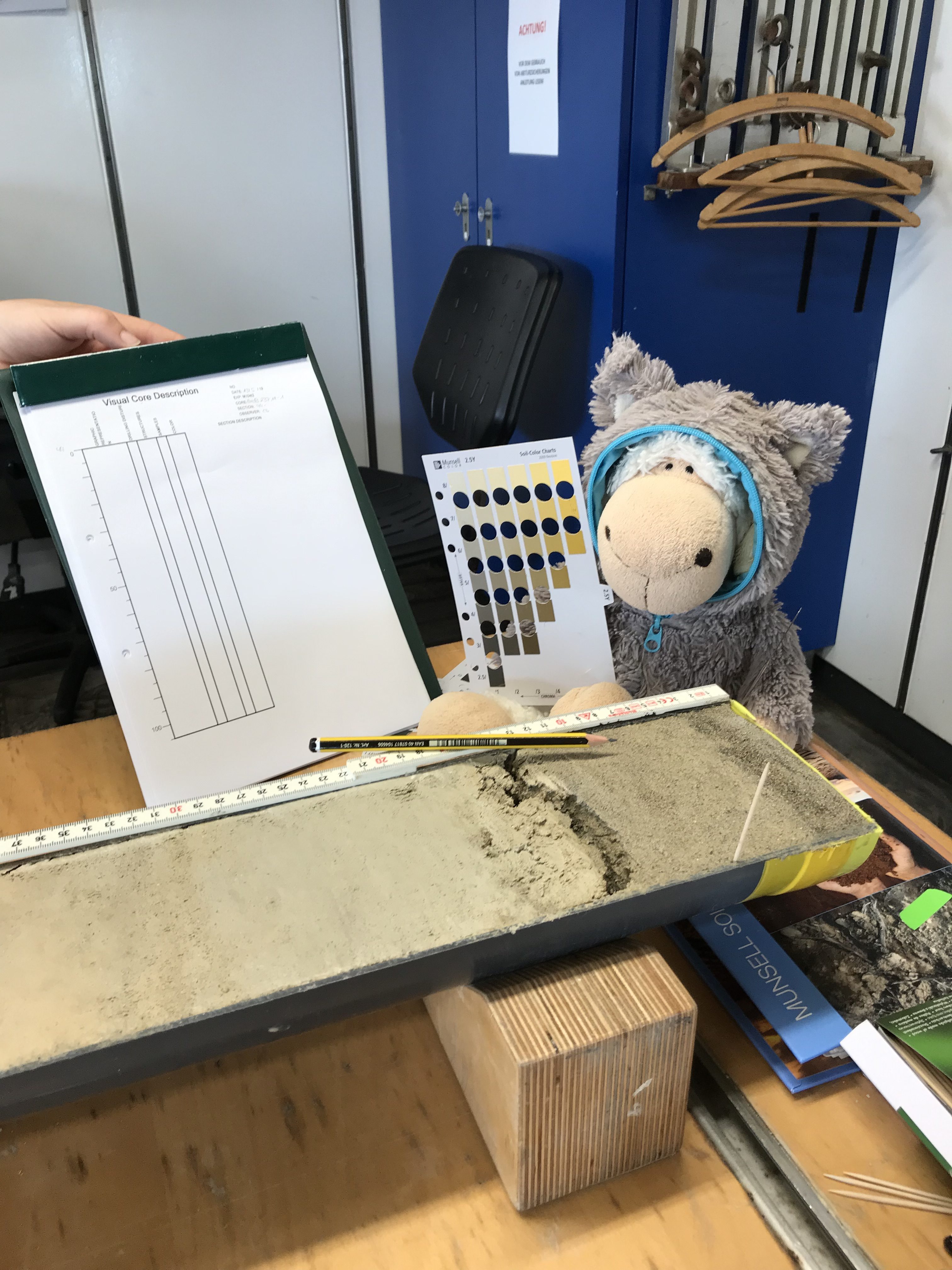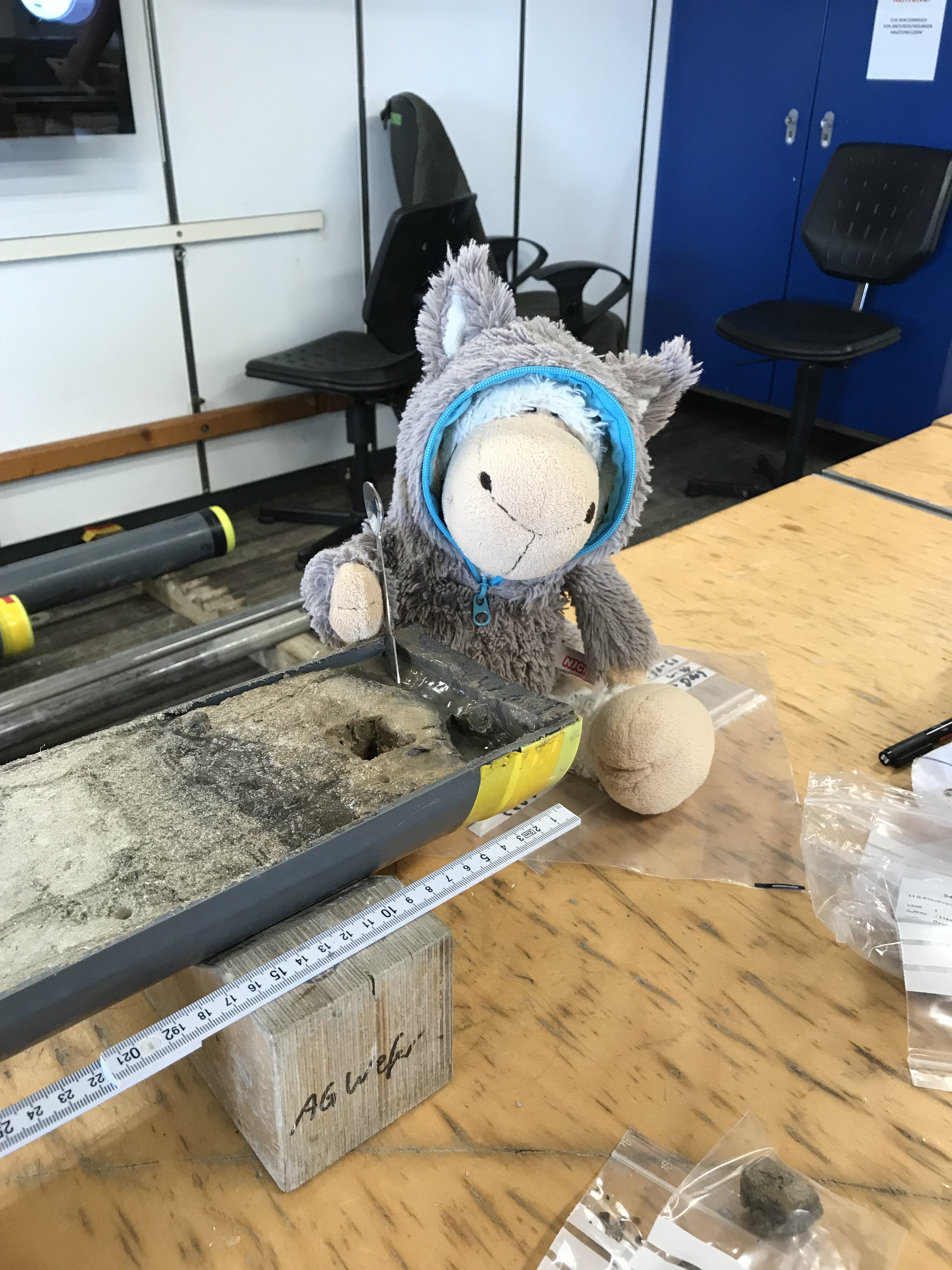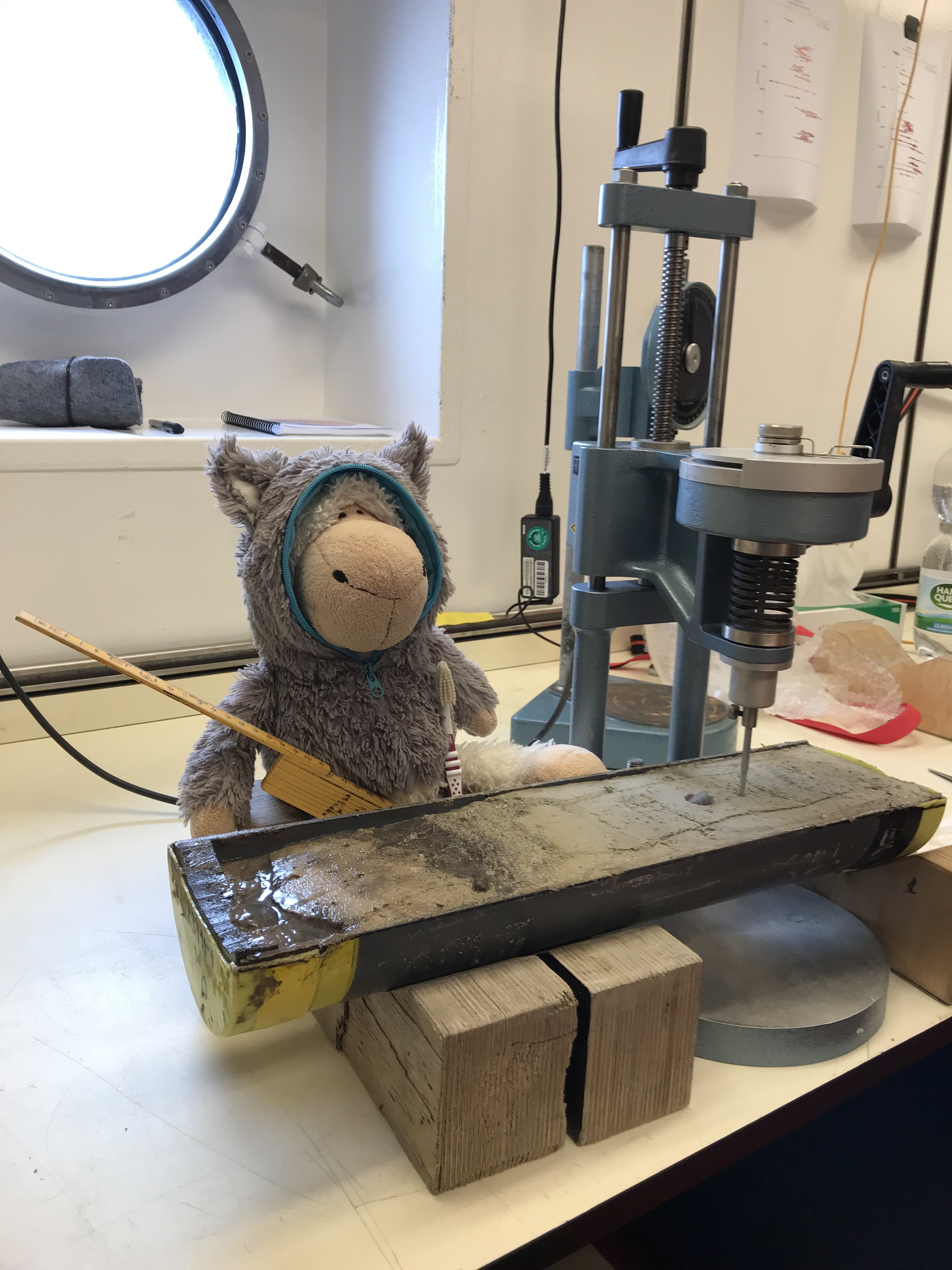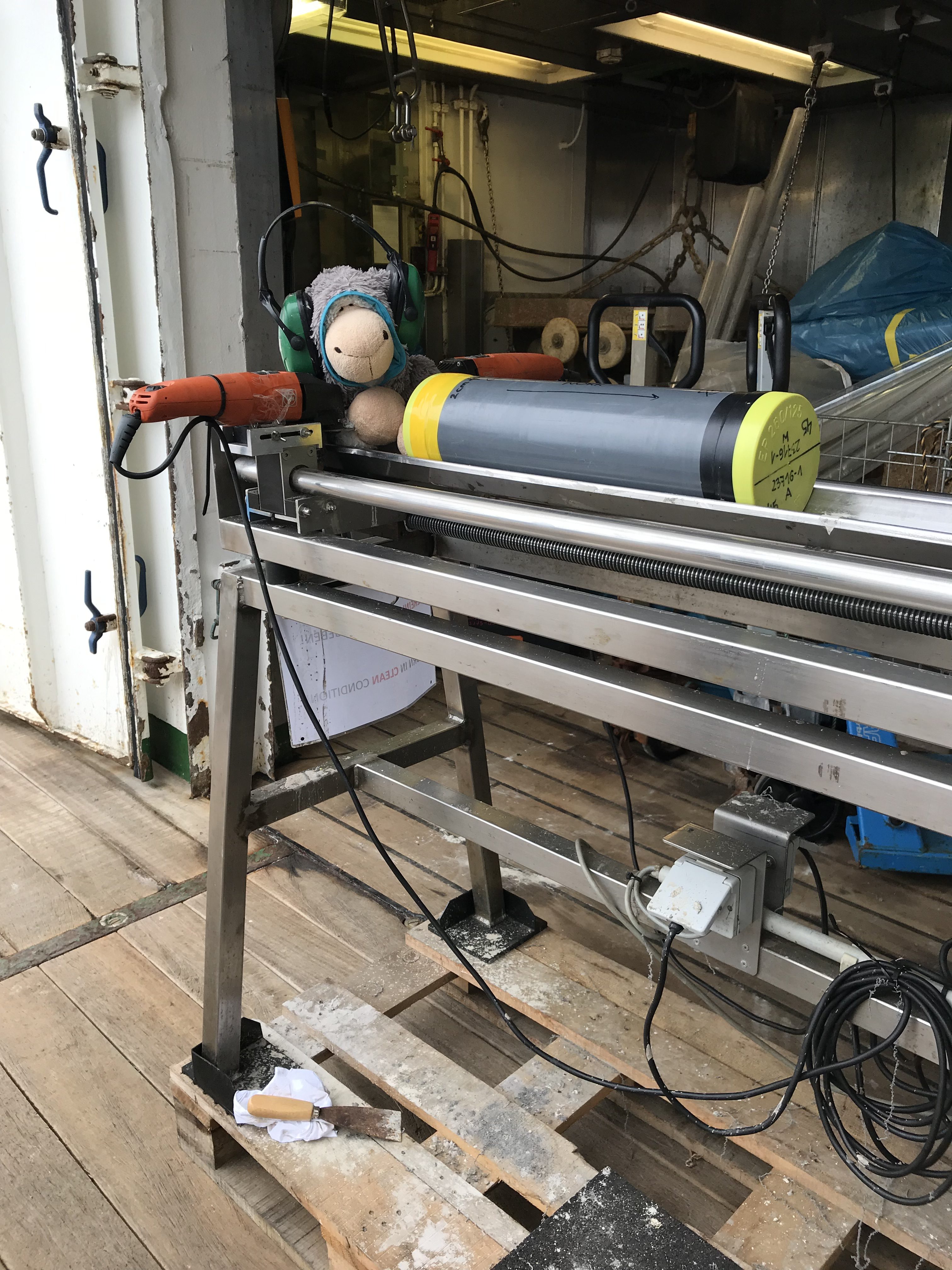 Southampton
Another big event was my secondment in Southampton. For two months, I went back and forth between the National Oceanography Centre and the University of Southampton, working relentlessly on my micro-CT data and my first manuscript. Thanks to the great supervision of Mike Clare (NOCS) and Madhusudhan Murthy (University of Southampton), not only did I make considerable progress on the segmentation of my micro-CT images, I also finished my first paper 'A multi-disciplinary investigation of the AFEN Slide'. During my stay, we also visited Fugro GB Marine Limited. The people were extremely friendly and after a tour through the labs I had the opportunity to present and discuss my work with scientists from Fugro.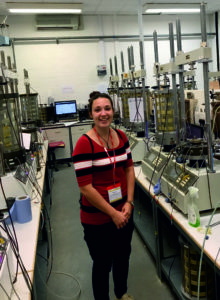 By the way, if you have ever wondered what micro-CT actually is:
Micro-CT (otherwise known as "micro computed tomography") is a 3D imaging technique, which allows the visualisation of the internal structure of objects at a micro scale, and non-destructively. The applied method is the same as that used in hospital CT scans, but on a much smaller scale and with significantly increased resolution.
One thing I have been realising over the past year is that more and more people tend to ask what my plans for the future are. However, truthfully, there are so many interesting things happening right at this moment that I would rather stay in the present a bit longer, rather than worry about the future.
"So, what do you plan to do after finishing your PhD?" - I PLAN TO FINISH IT!
Where?
Where?
When?
Supervision
Mike Clare (NOCS)
Madhusudhan B N Murthy (University of Southampton)
Bologna Workshop - A discovery of turbidites or maybe more?
@ CNR-ISMAR Bologna, Italy (15 - 21 September 2019) |

2019-10-30
Bologna SLATE Workshop - A discovery of turbidites or maybe more?
Ricarda Gatter (ESR 9) , Thomas Zengaffinen, (ESR 13) | @ CNR-ISMAR Bologna, Italy 15-21 September 2019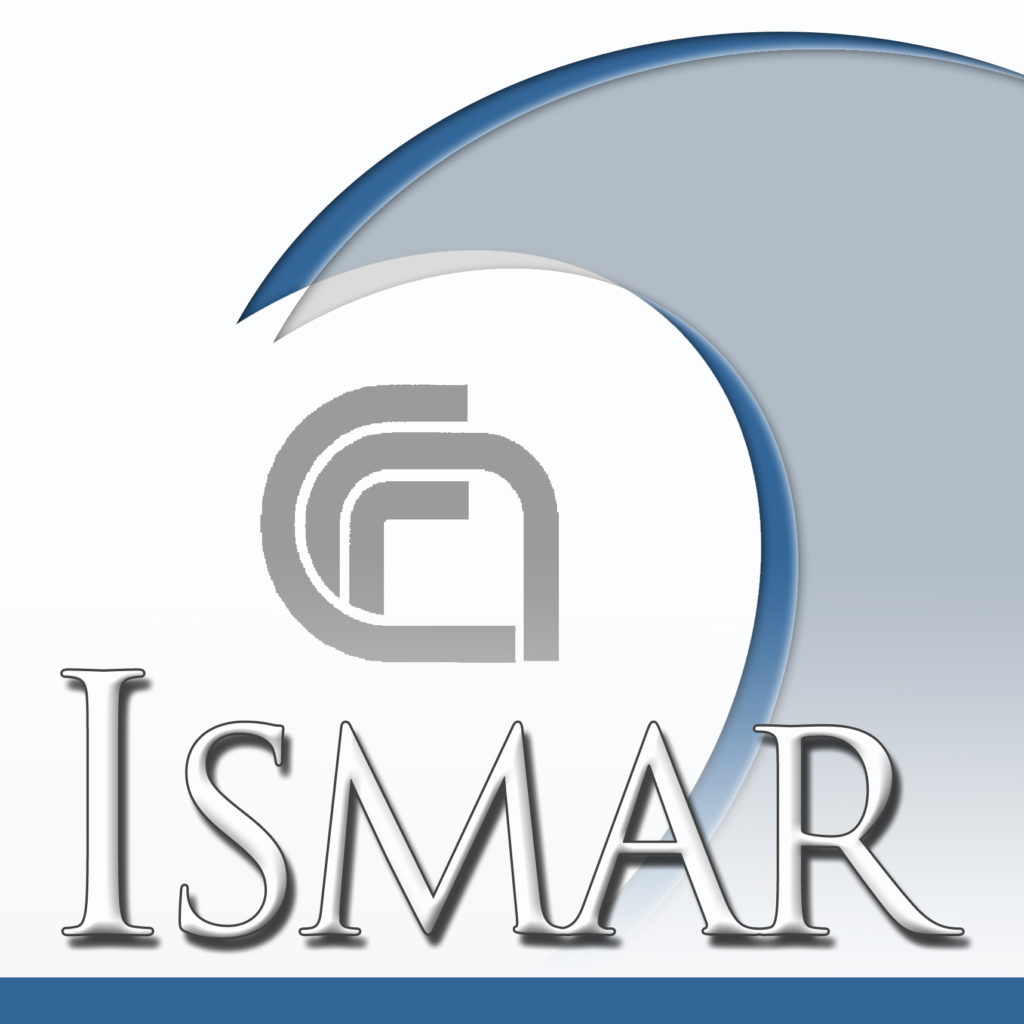 How to convey your research to others
Scientific writing
It is done! After long months in the office, lab, field and on the ship; reading papers, gathering data, measuring, analysing, questioning and discussing, you are DONE. The only thing that is left is writing it all up. Easy, right? Well, if you are like us you will find that it is actually quite challenging.
"To present a scientific subject in an attractive and stimulating manner is an artistic task, similar to that of a novelist or even a dramatic writer."
(Max Born)
During our third SLATE workshop in Bologna, Mike Clare (NOC, Southampton) took it upon him to "teach" us how to write a good scientific paper, or at least try. We started with analysing papers that we like and discuss why we picked these specific papers. From there we began to talk about the structure of papers and to work on our own.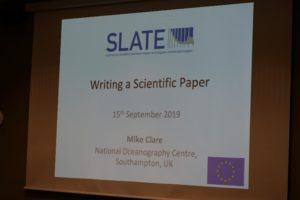 What we learned:
Structure is key
Start with bullet points and expand out
Focus on the main question, do not include unnecessary information
Check the logic flows
Keep it simple
"Have something to say, and say it as clearly as you can. That is the only secret of style."
(Matthew Arnold)
"Keep everything as simple as possible, but not simpler."
(Albert Einstein)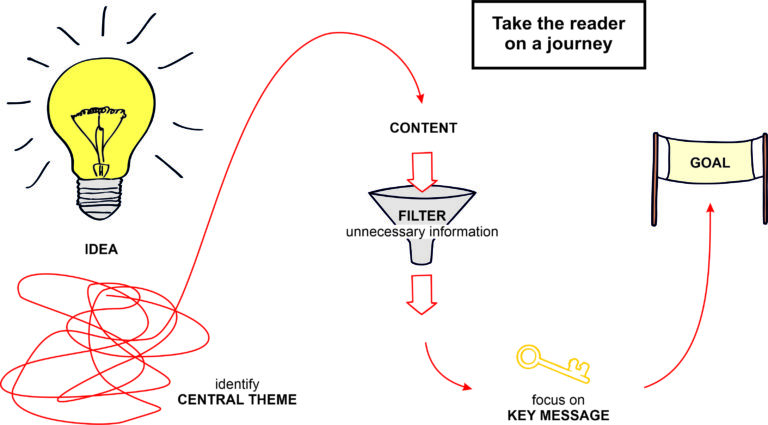 And most importantly, PRACTICE, PRACTICE, PRACTICE …
"A professional writer is an amateur who didn't quit."
Richard Bach
Thanks to Mike Clare for an insightful course, helpful discussions and some great quotes and pictures.
Science dramaturgy: creating an exciting story taking inspiration from science
Not only is it important to convey your key message as simple as possible in a written text, it is also necessary to be able to do so in oral presentations. Why not integrate your key message into a story? One day of your annual workshop was designated to 'scientific storytelling' with Dr. Andrea Brunello, who held a seminar on 'Science dramaturgy: creating an exciting story taking inspiration from science'. Start your story with some background information (balance), then present an unforeseeable problem (unbalance), and throughout the presentation, find a solution for the problem (rebalance with a significant change). Do not just list facts while you are presenting. If there is no tension, your key message is not relevant for the audience.
Grab the audience's attention from the very beginning. If you do not excite the audience within the first ten seconds of your presentation, you have lost them forever. Therefore, start with something catchy, relatable, what we call a 'hook'.
Relate your research to yourself, tell the story as if you experienced it yourself in order to convey emotions to the audience and to keep their attention. Nevertheless, do not get emotional yourself but raise the emotional state of the audience. Your talk will be a 'great talk' if you present something the audience can easily remember. The story around your scientific results helps the audience to remember your facts in an easier way. However, what the audience should remember are your newly found scientific findings. During your talk, never forget your important scientific key message!
Field trip
Subaqueous sediment-laden density flows, called turbidity currents, can travel for hundreds of kilometres and damage important seafloor infrastructure, such as telecommunication cables that support 95% of the international communication, and expensive oil and gas platforms and pipelines. We measure turbidity currents directly, analyse their deposits (turbidites) in sediment cores, and try to reconstruct their dynamics and deposits with numerical simulations. Turbidites have been studied in detail for example because of their hydrocarbon reservoir potential – the sandstone can act as reservoir and the overlying mudstone as seal. However, what do turbidites actually look like?
The ideal vertical succession of turbidites is described by the Bouma sequence, which is divided into five distinct layers A-E (from bottom to top) that are fining upwards. Layers A-C build the lower part of the sequence and consist of coarse- (A) to fine- (C) grained sand(stone). Layer A is massive or normally graded, while layers B and C are laminated. Layer D consists of parallel-laminated silt(stone) and layer E builds the top with massive, ungraded mud(stone).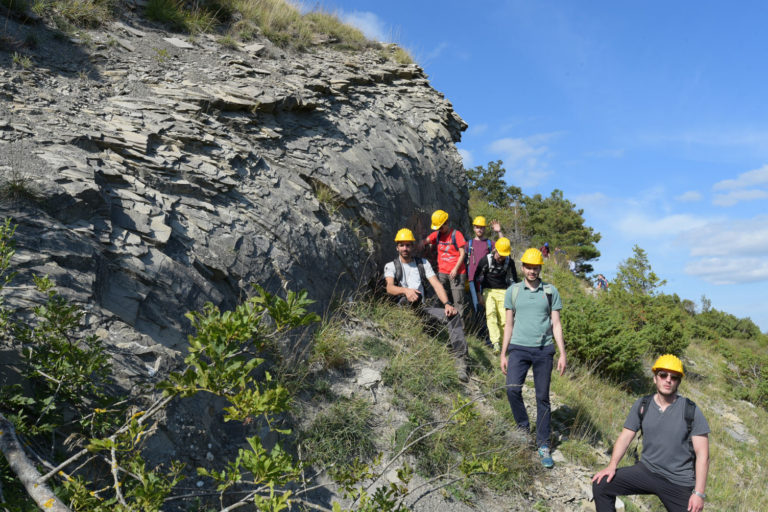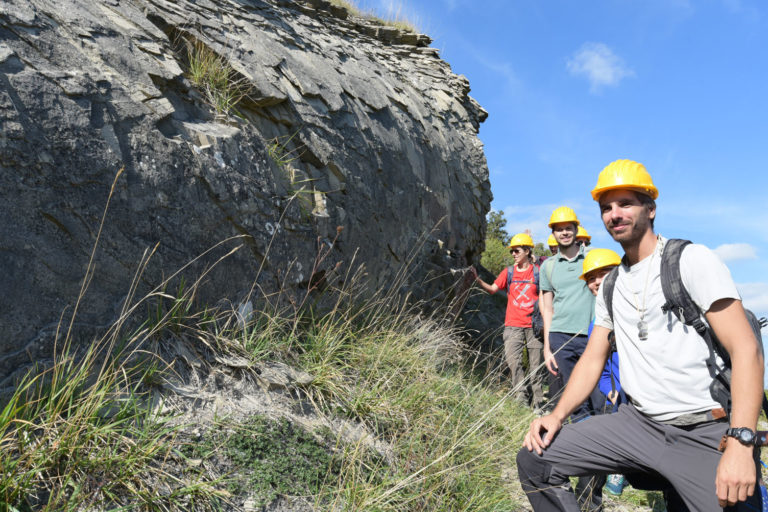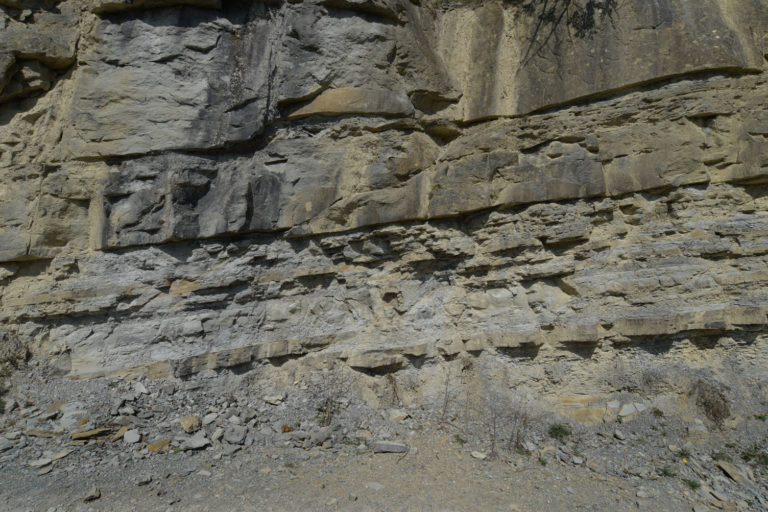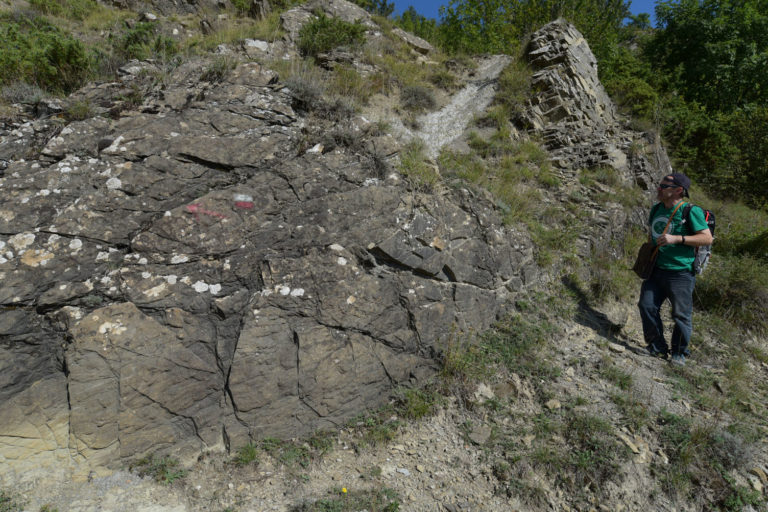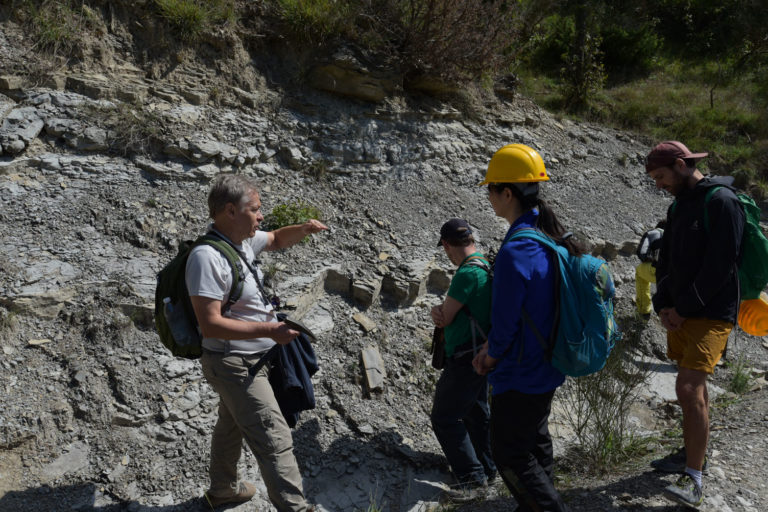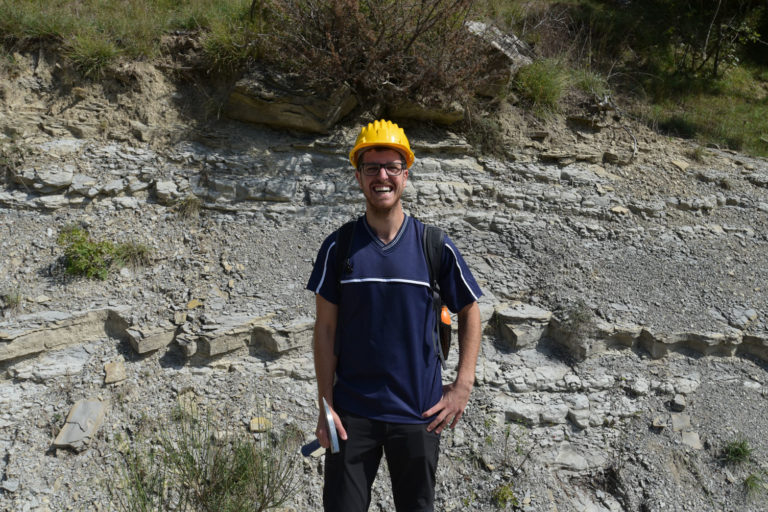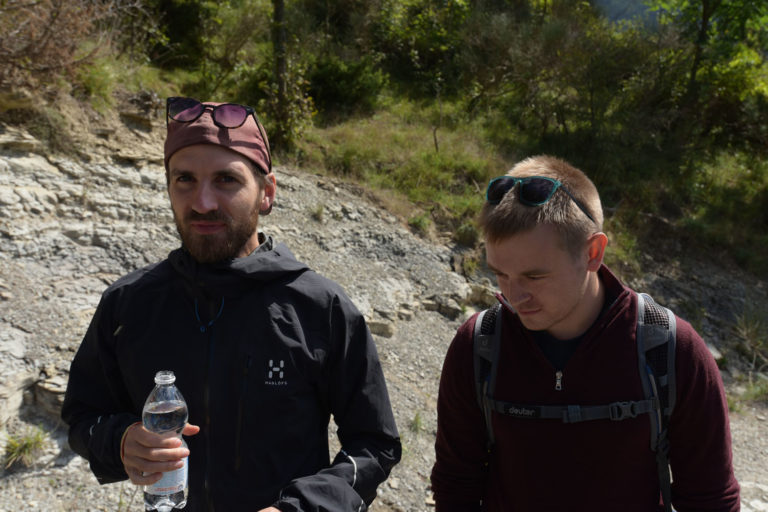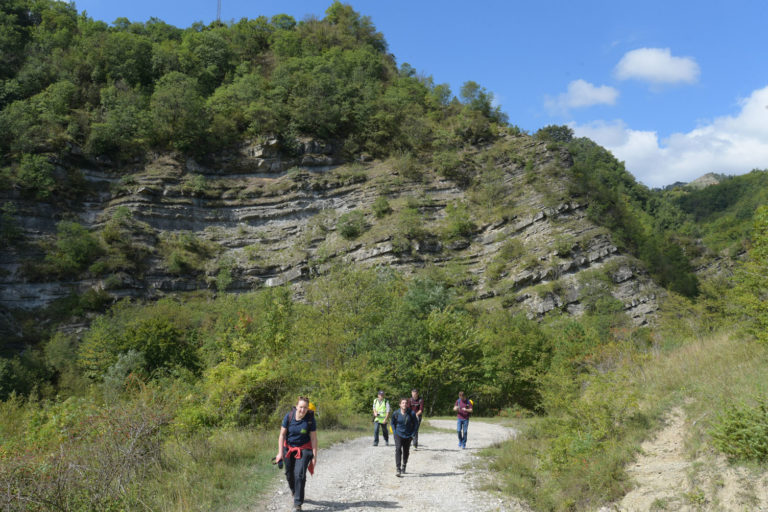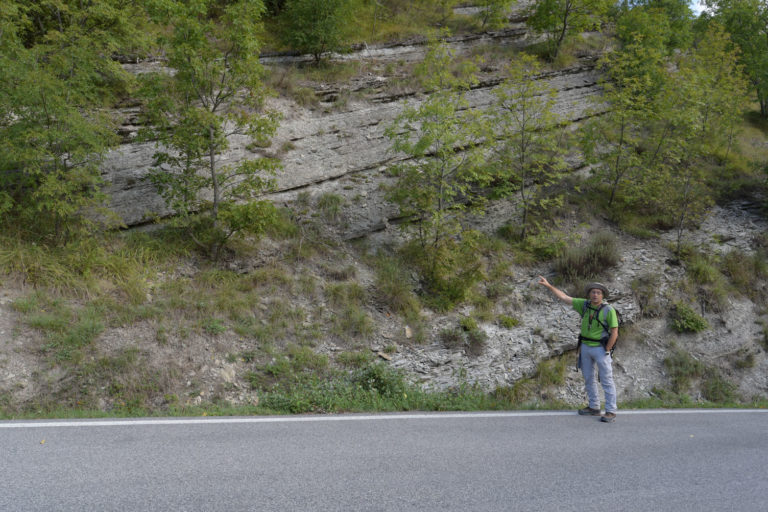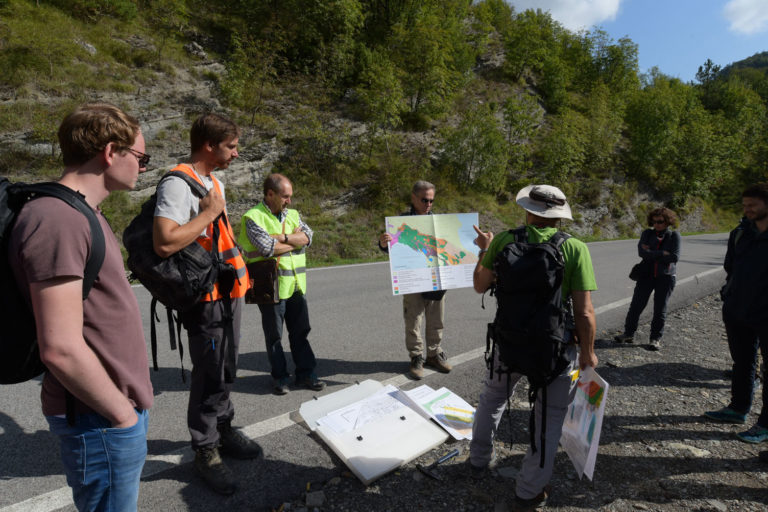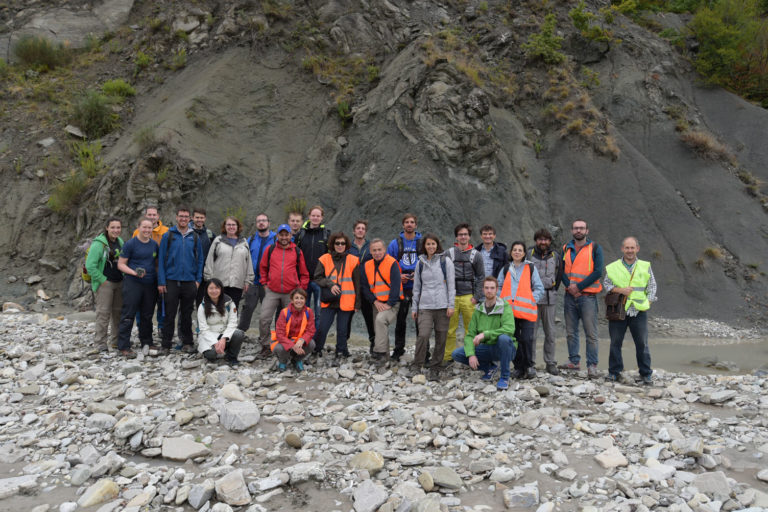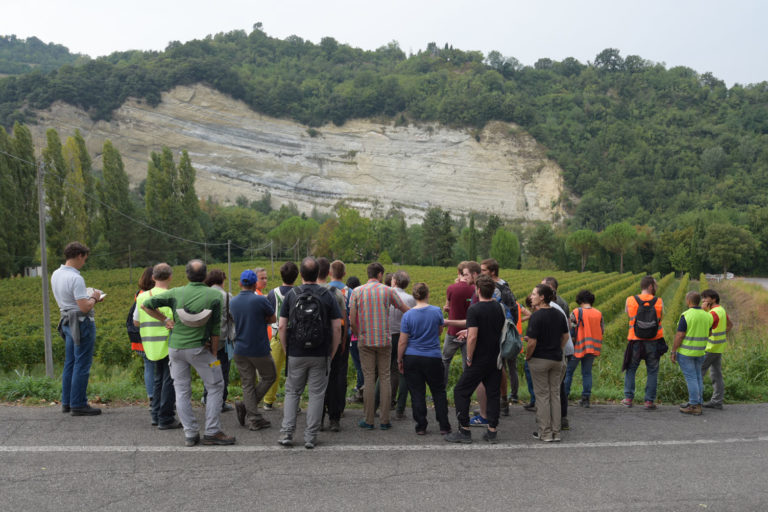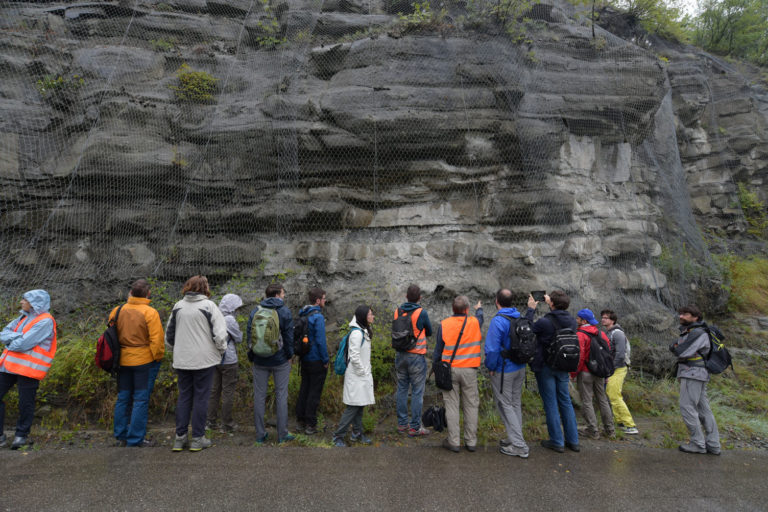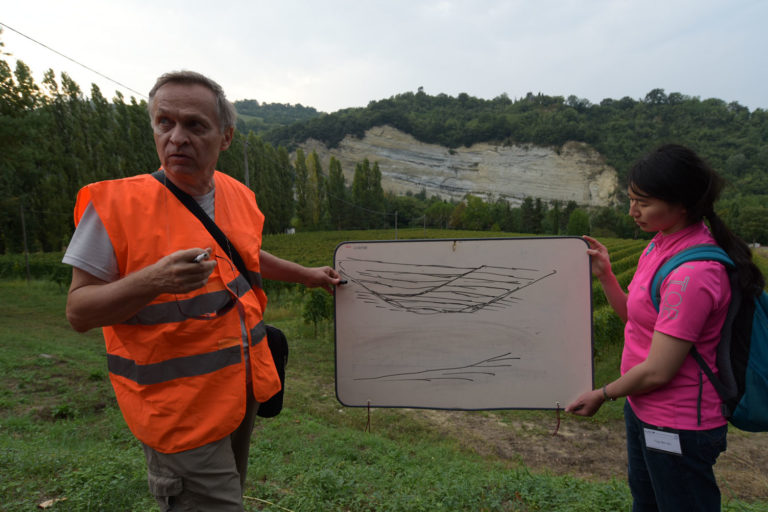 Previous Next
Application in Numerical Modelling
Layer(s) of turbidites on the seafloor have the potential to be re-activated and to move further downslope. Depending on their velocity, grain size, rheology, and thinning of the layer thickness, the sediments will move as either a debris flow, solid blocks, or a slump. In the latter case, the rheology determines the deformation of the moving sediment layers. The sediment layer can build folds that turn with the direction of movement, the same way as mantle rocks in a ductile deformation. Therefore, we can apply the same rheology for the simulation of soft sediments as for mantle rocks in a ductile regime.
One rheology we can apply to these soft, ductile sediments is the viscoplastic rheology. The sediments move after applying critical shear stress, and are permanently deformed. Depth-averaged numerical flow models allow the simulation of these processes. Although we cannot detect any ductile structures (e.g. folds), we can model the slump as an entire mass quite realistically.
Location
Impressions from the EGU 2019
@ Vienna, Austria (07 – 12 April 2019) |

2019-07-23
A GUIDE AROUND EGU 2019
ESR1, ESR 2, ESR 3, ESR 4, ESR 5, ESR 6, ESR 7, ESR 8, ESR 9, ESR 12, ESR 13, ESR 14, ESR15 | @ VIENNA, AUSTRIA (7-12 April 2019)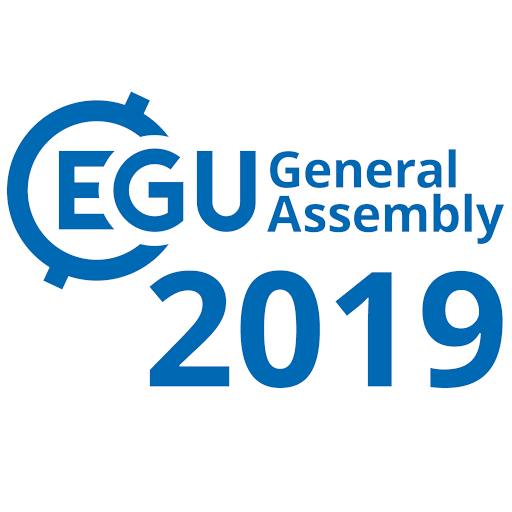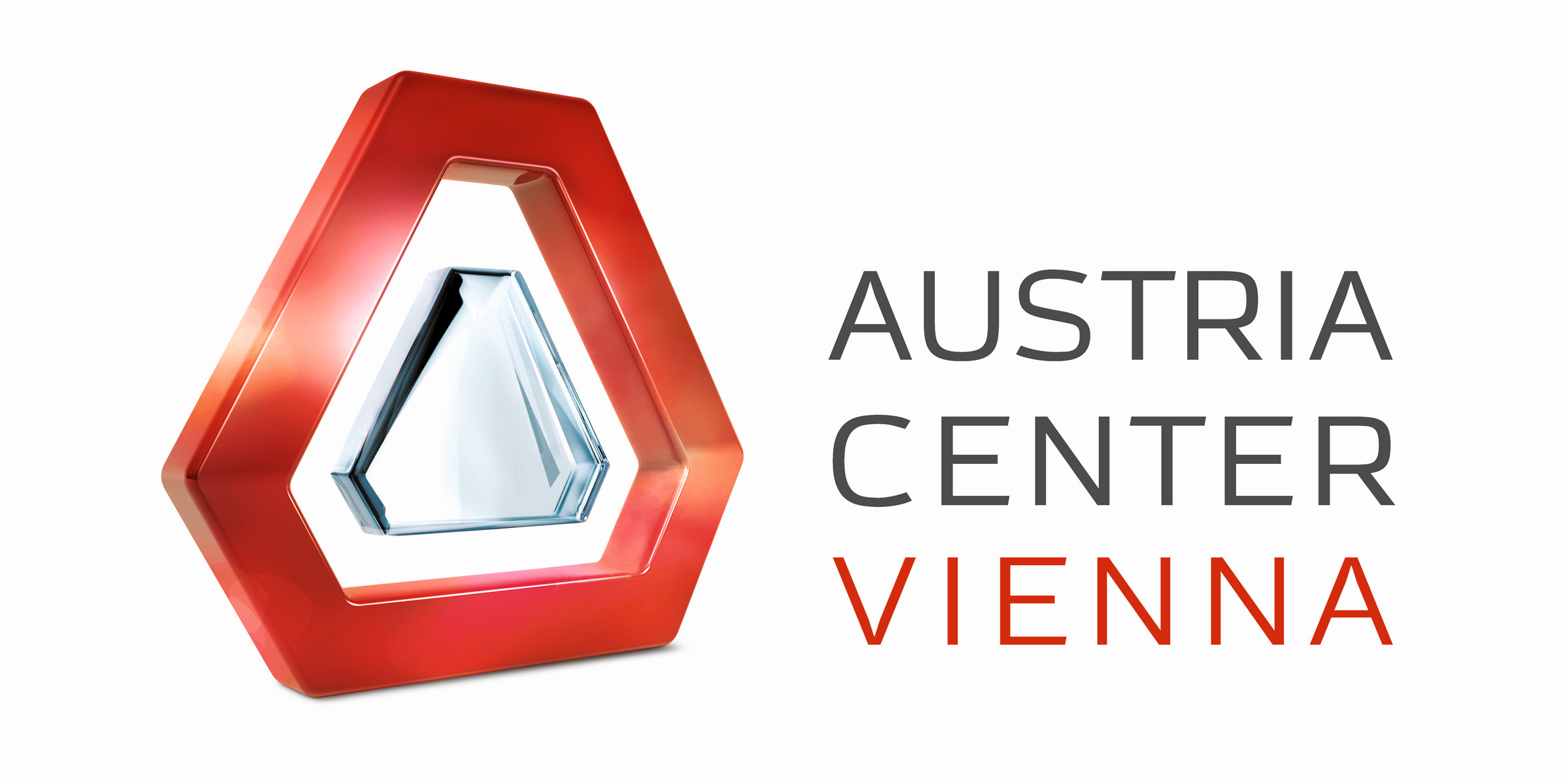 "The EGU General Assembly 2019 was a great success with 5,531 oral, 9,432 poster, and 1,287 PICO presentations that were attended by 16,273 scientists from 113 countries" (Copernicus Meetings, 2019).
SLATE was well represented with 12 PhD candidates, PIs (Achim Kopf, Michael Clare, Carl Harbitz, Finn Lovholt, Michael Strasser) and Aggeliki Georgiopoulou from the advisory board presenting their work.
Get your patch and let's get started.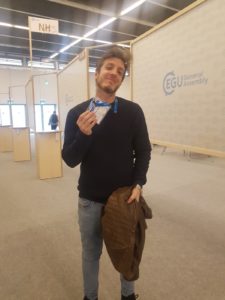 Presenting our work
Rachel, Jonathan, Tugdual, Shray, Kate, William and Matthias drew crowds of people into the lecture rooms with their amazing presentations. They spoke on a variety of topics; covering different aspects of turbidites and their evolution, contourites and submarine landslides.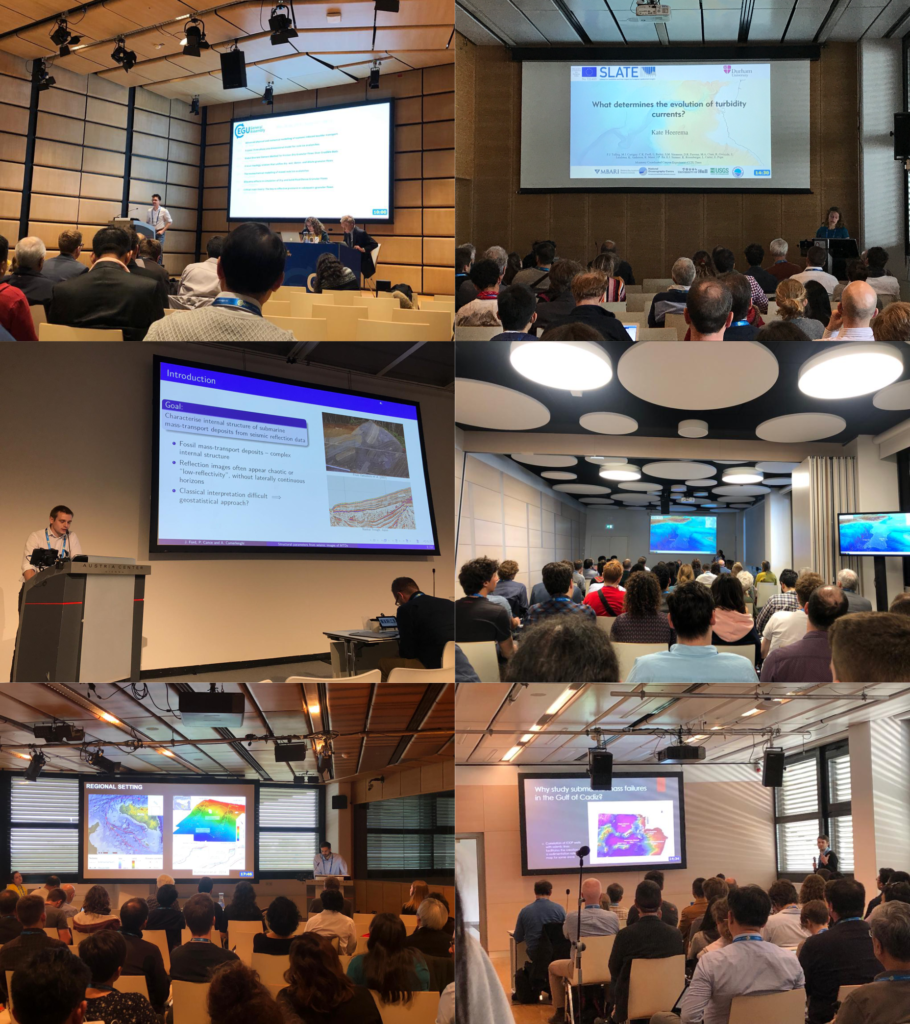 "I was very happy to be able to present my work at this conference, as it gives an occasion to present our work in front of a wide audience with very diverse backgrounds. I came out with very good feedback and advice for my work." (Tugdual Gauchery, ESR 3)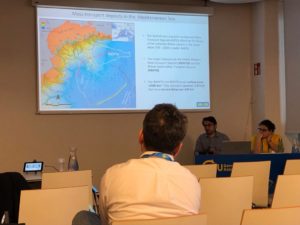 "It was my first time at the EGU and it was overwhelmingly large. I had the opportunity to talk to several researchers after my talk – it is always good to get feedback on both the positive and negative parts of ones research." (Shray Badhani, ESR 4)
Davide, Ting-Wei, Stefano, Ricarda and Maddalena presented their work in the poster sessions and attracted a lot of people.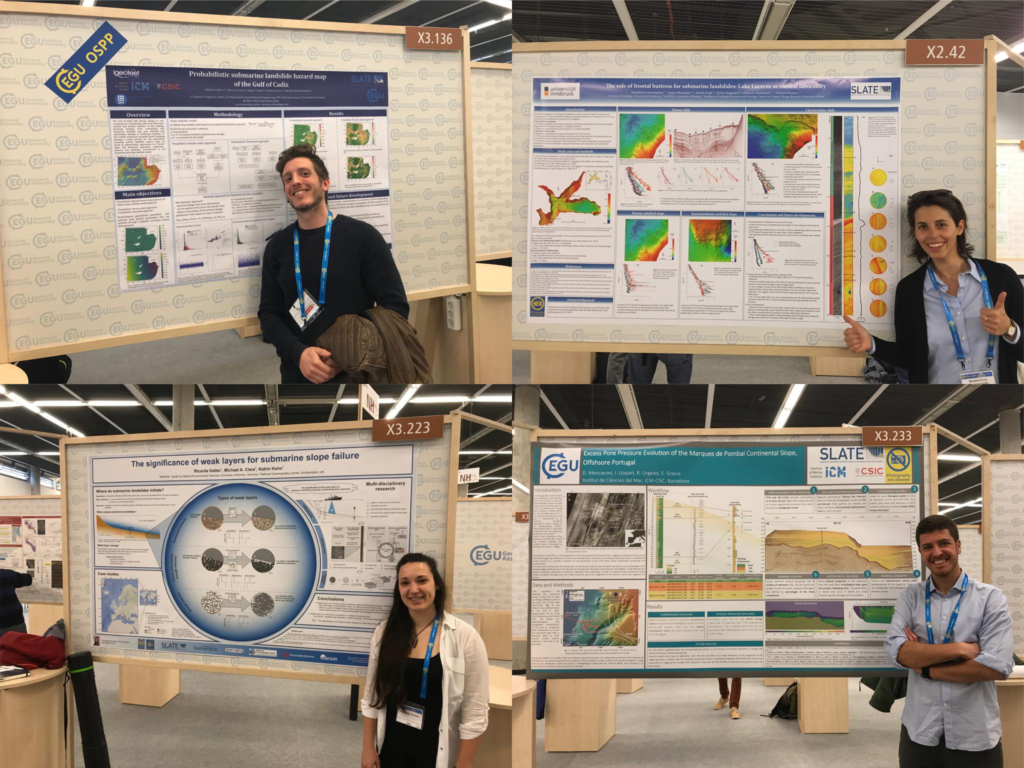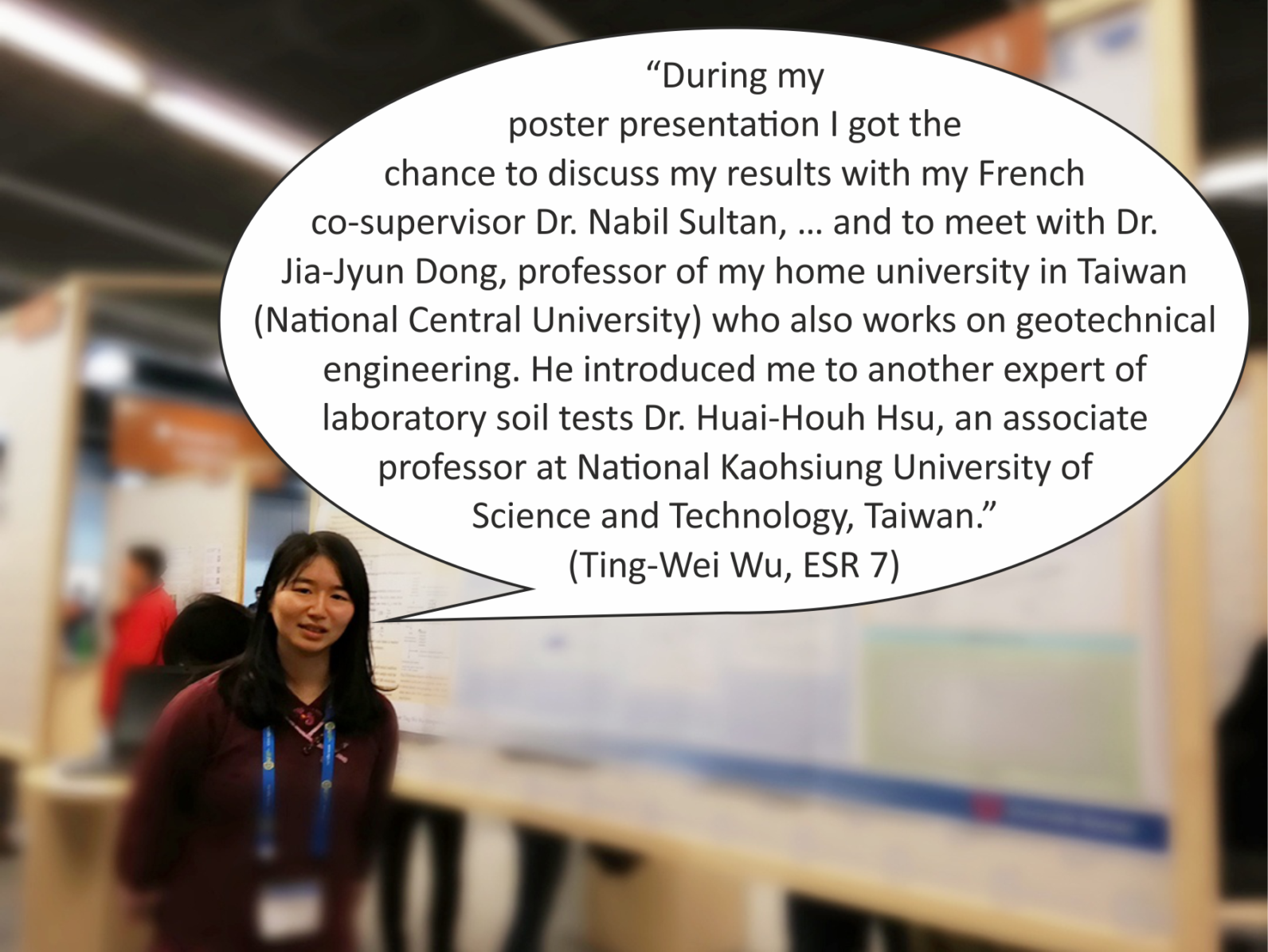 "Presenting a poster at a conference like EGU is a great learning opportunity for any early career scientist. On one hand, I had the chance to discuss my research with people working in the same research field and to meet scientists I had only known from reading their papers. What surprised me the most, however, were the questions I got from scientists specialized in completely different fields, looking at my project from a prospective I do not usually consider. People who were just randomly walking around posters asked me the most challenging questions, highlighting issues that I never considered before, but that helped me to have a more complete understanding of what I am studying." (Davide Mencaroni, ESR 6)
And learning new things
Apart from presenting our own work, we took the opportunity to learn more about work from outside our own fields. Alongside the traditional poster and oral presentations, EGU also hosts so called "PICO" presentations (Presenting Interative COntent) and short courses on more general topics in science.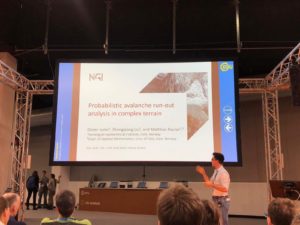 "One thing that I really enjoyed about EGU were the PICO sessions. PICOs start with quick-fire two minute presentations from each researcher to briefly introduce their topic and state their main conclusions. After, everyone moves across to the interactive area, where each presenter has their own workstation and large screen. This really facilitates discussion and allows for more flexibility that a standard poster or talk. For me, the PICO sessions are a great way to be introduced to an unfamiliar area, because the results are presented up front and you get to see a rapid cross section of the state-of-the-art in a particular field." (Jonathan Ford, ESR 2)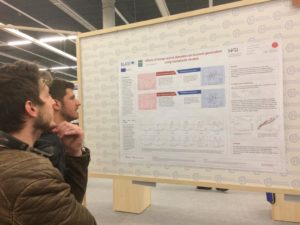 "It was a great opportunity to get some insights from overlapping, but vastly different, fields. For instance to see what the current state of research in Powder Snow Avalanches is, or to get some background knowledge on numerical modelling in turbidity currents as preparation for my secondment at NGI." (Kate Heerema, ESR 5)
"One of the most exciting sessions I attended was on the recent tsunami events in Sulawesi and West Java (Krakatao), Indonesia (Blog). Although most of the group seemed to agree that these tsunami events were, in fact, submarine landslide-related, there was some surprisingly lively pushback from at least one seasoned researcher. I think the overall tsunami community seems to be experiencing a small paradigm shift in how they think about tsunami hazards. I also enjoyed stopping by different poster sessions related to tsunami hazards and had some great networking conversations with a group of researchers from Singapore about their work and how it relates to some tsunami survey work that I previously did as a master's student" (William Meservy, ESR 12)